There have been numerous pages written for the purpose of educating doctors and physician practices about website design for medical doctors. Articles have been written concerning search engine optimization and medical website design. Other pages have been written about the proper methods for marketing strategies related to website design. While all of this information is important, some people learn best by looking at examples. This allows people to take those ideas and see what they look like in action. Some of the best medical website design examples of 2016 have been put together so that people can see what a proper website design looks like.
Southern California Institute of Neurological Surgery
One look at this physician website design will demonstrate one of the most important parts of the website in action. At the top of the website is a banner full of links that will take visitors to relevant parts of the website. This is called the sitemap. Search engines are going to look for websites that take advantage of a sitemap because this is something that visitors will always look for. This sitemap contains all of the relevant information for visitors. Furthermore, if visitors have an easier time navigating the website, they are more likely to stay on the website longer. This is called the "dwell" time. The longer a visitor spends on the website, the more invested they become in the website. This means that they are more likely to convert from a visitor into a patient. Therefore, take the time to invest in a sitemap. It will be rewarded with a higher search engine ranking that will increase the site's visibility. Furthermore, it is friendly to the visitors and is more likely to convert visitors into patients.
This page demonstrates one of the essential parts of converting visitors into patients in action. Notice that the website deals with aesthetics. Therefore, most people visiting the site are looking to have elective work done. It is vital that they get the quality work that they are paying for. Therefore, this site has demonstrated proof of quality work. There is a beautiful image on the front page that communicates the strengths of the practice to its visitors. Furthermore, people should move their eyes up to the sitemap and notice that there is a link to customer testimonials. These testimonials are important because they provide visitors with a proof of quality. Knowing that other people have invested in the practice and had the quality results that they were looking for is essential to converting visitors into patients. Remember that having a website that winds up high on the list in the rankings is only half of the battle. These visitors also need to convert into patients to truly grow a practice.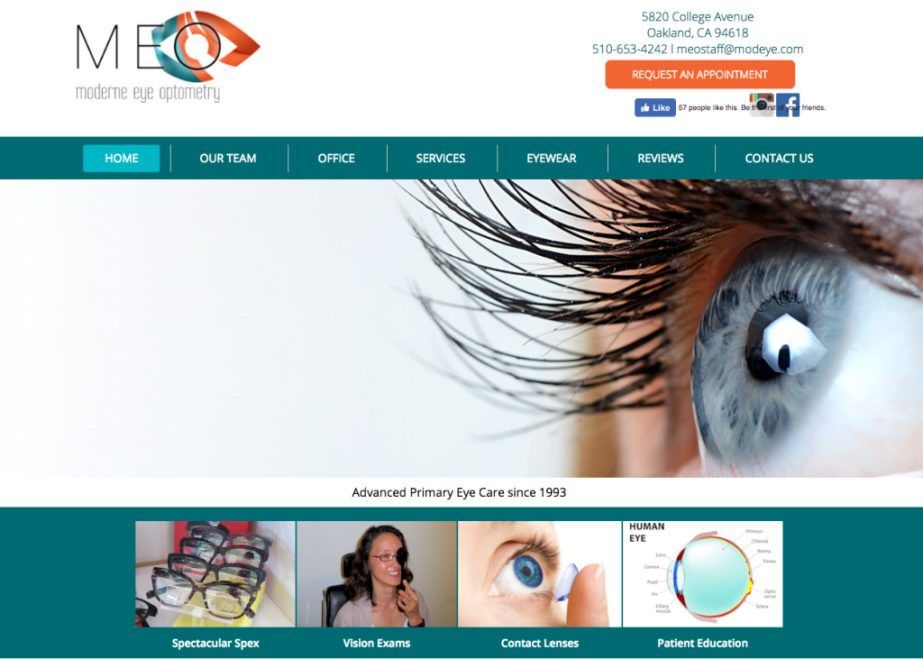 In regards to website designs for an optometrist, this website demonstrates one of the essential search engine optimization tricks in action. Remember that search engines are going to look and see what websites are updating their information regularly. The belief is that if a website is updating its information regularly, the business behind this website is still up and running because they are taking the time to update their website. If the business is still running, it is more relevant to the person that entered the search query. If people look up at the sitemap at the top of the website, they will notice that there is a link that says "What's New!" This is clearly a portion of the website that contains updates to information regarding the office staff, new treatments available, or even news that patients might find relevant to their condition. Clearly, the website puts in the time that is necessary to keep their website updated with the latest information. This website is likely to be rewarded in the search engine rankings and serves as an example to other websites out there looking to rank highly and improve the visibility of their practice.
Azalea Plastic Surgery is a practice in Valdosta, GA and demonstrates another key component for both search engine optimization and visitor conversion. Many people have read other pages and realized the importance of including an integrated blog. This practice has actually has a link to their blog in the top-right corner of the web page. A blog is important for several reasons. First, it encourages a site to post to that blog regularly. This means that the site is filled with recently updated information that will be rewarded by the search engine. Next, this blog is going to be filled with links to other portions of the website and reputable external sites as well. This is another way to be rewarded in the rankings by search engines. Finally, this blog is going to contain information that is relevant to the patients. This will keep the visitors happy and is going to increase the chances that they convert into a patient. Every plastic surgery website should include a blog with relevant material.
This podiatry website design demonstrates one of the final keys for medical website design. Notice that this web page includes one of their most marketable accolades front and center on the website next to the picture of the provider. This is important because many practices will claim that they offer the highest-quality service available. This is subjective and patients understand this. Therefore, it is vital that practices take the time to discuss their objective awards too. This practice has placed one of the awards they have received and it is likely that visitors are going to take note of this and at the very least take the time to check out the rest of the website. Furthermore, this award is recent. The search engine knows this and is going to see that the site is being updated regularly. This site will be rewarded in the rankings.
Ultimately, these are only a few examples of some of the high-quality website designs that are available to choose from. Taking the group as a whole reflects that every website is different. This demonstrates the last important point of website design. All of these websites are custom website designs. Remember that search engines reward websites that use a custom website design and punish those designs that follow a template. Make sure to contact a professional website designer that puts together custom websites for their clients. The designer should also be willing to demonstrate their prior work as a proof of quality. Ensure that any website used for medical website design purposes is a custom website.