It seems counter-intuitive for a medical website for an establishment aimed at providing urgent care to be concerned about something as pedestrian as marketing, but without it the patients and neighborhoods you seek to serve won't be able to find you. If your patients can't find you, you can't provide them with the top-notch medical care your facility provides, making marketing one of the most important things you can do in service to your community.
Your Website Is Your Reputation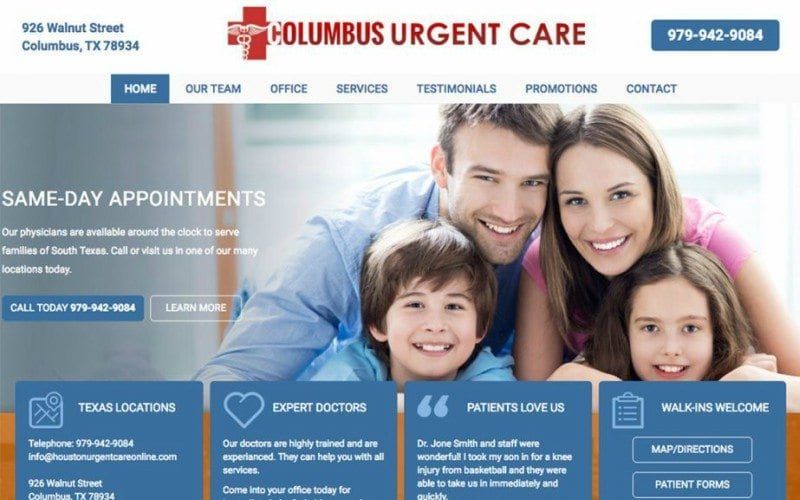 There was a day when word of mouth was the most important form of advertising any business or practice could have, and in many ways that hasn't changed. What has changed is what affects what people are saying, and it all starts with an approachable and informative website that incorporates mobile responsive design. The majority of web searches are performed through mobile devices, so it's important that your page is designed to be accessible through this interface.
Effective Marketing Attracts New Clients
OK, we'll admit that's a bit of an obvious statement, but the key word here is "effective". For location-based services like urgent care centers, you need to leverage the power of local marketing.  It does people no good to find your clinic online if they aren't anywhere nearby, so your SEO technique should ensure that you appear on the top search listing on Google for your local area.  
Social Media Puts You In Touch With Your Community
Social media isn't just for keeping in touch with your friends and family, every website hoping to engage with their community and cultivate respect in their industry needs a solid social media plan.  Social media ensures that your clients are aware of recent news involving your clinic, and provides a venue for you to communicate with them and address their concerns.  People share their opinions on the web these days, and this provides your care center with the opportunity to respond.
Online Ads
While the rest of the marketing techniques here are largely passive, designed to draw in clients with elements like design and providing information through social media, Online Ads are a bit more of an active technique. Yes, even your urgent care center needs to get into the game of advertising your services through paid ads. Sponsored Facebook Ads are typically presented to those who have been searching for related topics, helping you reach web users who are looking for medical information.
Following these steps will help you keep your urgent care in the local limelight, establishing it as an authority for care as well as showing that you're active and interested in the community.  While traditional word of mouth is still a great tool, nothing beats having a solid marketing campaign that reached out to the patients who need you and engages you with your client community.  
Keep your urgent care center thriving and serving its community through a well-structured marketing campaign. The patients who need won't be able to get the help they need if they can't find your business online!