It's tax season, and with that in mind we know dental practices around the country are working with their CPA to figure out their tax situation and whether they're eligible for a rebate. And while small businesses tend to get the brunt of many tax laws, there's good news for those who are working on web accessibility.
In an effort to help ease the cost of associated with accessibility improvements, the government is offering a 50% tax credit on several improvements made that fall within ADA guidelines, this includes the creation of an ADA compliant dental website.*
Before we dive into the details, just remember to talk this over with your CPA or tax advisor, as this blog post is designed purely for informational purposes.
Now for the fun stuff.
Tax Credit vs. Tax Deduction
We hear many people using these terms interchangeably, but they actually mean two different things.
A tax credit is subtracted from your tax liability after you calculate your taxes, while a tax deduction is subtracted from your total income before taxes, to establish your taxable income.
If you upgrade to an accessible website, you may be eligible for a tax credit from the IRS.*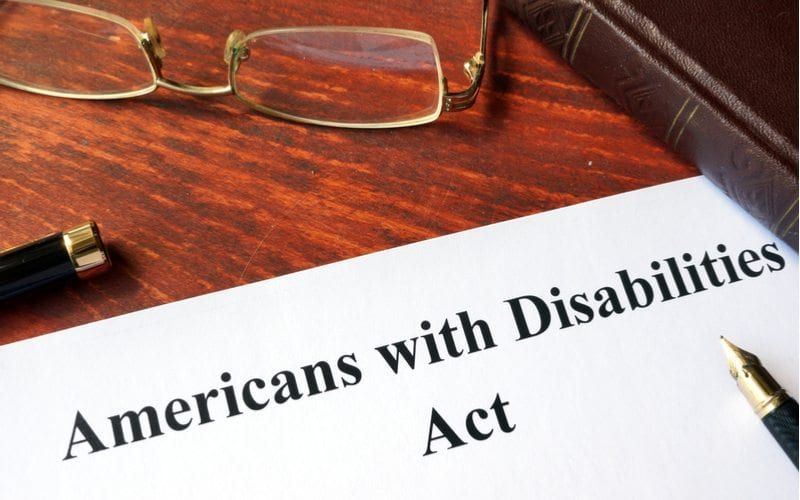 But First, What is Web Accessibility?
So, you've heard of the ADA – Americans With Disabilities Act. This act requires a business to follow certain guidelines to ensure they are accessible by those who have impairments, such as hearing or vision loss.
While most people tend to think that the ADA applies to physical, brick and mortar establishments, recent lawsuits, as well as how people live their lives (the internet is a part of nearly every American's daily life), have supported the fact that the ADA also applies to a website's design. Read about making websites accessible in this blog post.
How Do I know If My Practice is Eligible For the Tax Credit?
According to the ADA website, the tax credit is available to businesses that have:
total revenues of $1,000,000 or less in the previous tax year
or 30 or fewer full-time employees
The credit can cover 50% of the eligible access expenditures in a year up to $10,250 (maximum credit of $5000) and can be used to offset the cost of:
undertaking barrier removal and alterations to improve accessibility
providing accessible formats such as Braille, large print and audio tape
making available a sign language interpreter or a reader for customers or employees
for purchasing certain adaptive equipment
other effective methods of making visually delivered materials available to individuals with visual impairments (Eligible Access Expenditures 2C)
The tax deduction is available to all businesses with a maximum deduction of $15,000 per year. (Source: ada.gov)
What Makes a Website Accessible?
A dentist website designed to appeal to patients through video, photos, and quality content is great, but if it isn't accessible you're leaving out a large percentage of the population.
An accessible website will be structured on the back end to work with devices those who have impairments might use to understand the website.
This includes a wide variety of areas on your website, such as:
Optimization of photos, including the use of alt tags, descriptions, and captions
Optimization of content through the using of heading tags (properly structured)
Use of color that makes it easier to read and see contrasts, particularly for those who are visually impaired or color blind
Use of tables for tabular data
Ensure content can be accessed via a keyboard, not just with a mouse
And that's just the start.
So, What Can You Do?
If you're interested in making your website easier for those with disabilities to access, but aren't sure where to start, consider our ADApt website accessibility program. Through this program we create a website that is completely compliant and take the worry of whether you're covering the right categories off your plate and put them on ours.
Our team has years of experience working with dentists to create websites and understand how to design a website that is ADA compliant, yet looks and functions as the powerful marketing tool you want it to be.
ADApt works with your existing website. Here's how:
After installation and implementation through our cloud-based servers an ACCESSIBLE tab page overlay will appear in the lower right corner of your webpage(s).
Through the visitor's simple click of the ACCESSIBLE tab, the ADApt engine presents the content of the webpage in a format that is much more user-friendly and accessible to persons with a disability.
* Optimized360 does not provide tax, legal or accounting advice. This material has been prepared for informational purposes only, and is not intended to provide, and should not be relied on for, tax, legal or accounting advice. You should consult your own tax, legal and accounting advisors.