A simple guide on what to write and how to write so that patients and search engines notice you.
Just about everyone by now has heard about search engine optimization and understands its importance in the online search engine ranking world. One of the foundations of the ranking is the number of keywords and keyword phrases that are on your website when search engines' robots visit your website in the dead of night (it's actually any time of day, but sounds creepier that way). Furthermore, it isn't just the keywords that matter. In fact, their placement also matters.
Much of the website's content has probably been systematically laid out. The "About Us" section, the "Contact Us" section, and the "Schedule an Appointment" sections do not offer much autonomy for the doctor to gear his or her message.
Blogs exist to do just that. When medical professionals design their blogs, they often design them to incorporate key phrases that people might be searching for. Some examples for general practitioners may include "annual physical" "pain in legs" "colonoscopy" or "medical insurance" These are all examples of common issues that people may seek a doctor for. While these terms might not fit well into a typical web page that is found on a medical website, they fit very well into blogs. Furthermore, they can be used more than once without sounding like spam. Blogs are important because they give the doctor an opportunity to control the message on their website. Design this around search engine keywords and phrases to increase the results ranking.
The following are 5 key issues to watch regarding your blogging.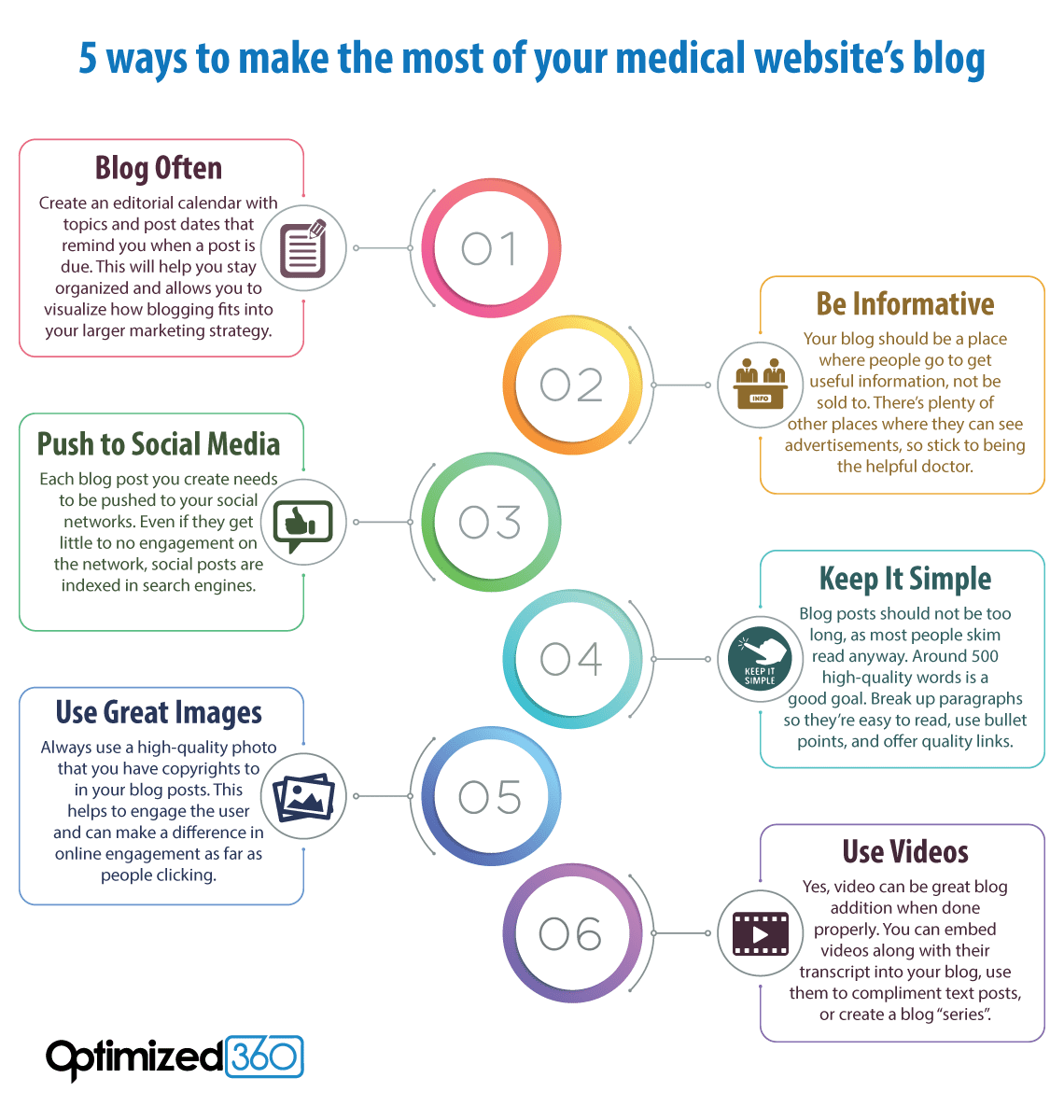 I hope that you notice that this blog post incorporates all of the above tips. We strive to post 3-5 times per week, on relevant subject our clients and future clients may find interesting. This sort of blogging is woven into our marketing strategy and tactics. We write these posts for you – and for the search engines.
Does it work? If you're reading this it certainly does.

But what to do to make your blogging easy and effective
Provide a solution to a problem your visitor is experiencing
Your impact can go beyond showing that you can make provide great medical services. People want to trust you as an expert in all things related to their health. Consistently posting helpful content helps you to earn their trust as somebody who knows how to address those needs.
Develop a great title
When people search for information (the kind you possess, the first bit they'll see in all of the search results is the title of your blog. Keep it short and sweet. Keeping your blog title to 6 or 8 words that the entire title will come up in  search results.
Don't forget a great Call-To-Action
You're blogging on your medical website because you want to grow your practice. Give your visitor a way to further explore the conversation after reading your posts. While the end goal is to get them to make an appointment, you want to give visitors other options for connecting with your office and giving you their information. You can also give readers an option to sign up for your email list or subscribe to your blog to receive updates.
Think like the search engines
Blogging in a format that resembles how questions are asked and answered makes great sense. After all, that's probably what got you to read this article. When your prospective patients use search engines like Google, they're looking for answers to their issues. Answering questions demonstrates your authority on the subject and expertise while pushing your website higher in the Google search results pages – and that's the whole point of good content marketing.
Writing any good web content is difficult, whether you're a natural writer or not. But writing marketing content that in turn has to be marketed is particularly challenging. You have several options (read about all of them in this article). Of course, you could opt to do it yourself. But this option almost always leads to the earlier discussed scenario of an abandoned blog that started with great intentions and ended up going nowhere. Writing your own blog content can be as dangerous as working on your own medical website design.
The easiest option and one that will be most successful is to hire someone.
If you find the idea of brainstorming topics, performing keyword research, writing content, and finding photos daunting or simply unappealing, then hiring your blog out to an experienced web marketing agency is the best way to ensure success. If you find that you need additional support to tackle this, reach out to the experts at Optimized360. Ask about our FREE CONSULTATION! We can help you get back on track – starting right now.