We are half-way through the year, and it's time to take a close look at the Top 7 Dental Websites of 2018. Each of these seven websites have been selected because of their fresh, attractive designs, professional look, smart navigation, quick page-load speeds and overall user experience.
Feel free to click on the image to take a closer look at the details of the project and how these websites came to be.
Smile Atelier
Beverly Hills Cosmetic Dental Specialist
Use of Colors
The use of black represents sophistication
The mix of black and white showcases balance
Analysis of Design Elements
Responsive, unique display on various devices;
Hamburger menu, trendy and compact;
Interactive elements in the header;
Animation of content elements as you hover over;
Use of images with overlay to highlight services
Westlake Smile Studio
Use of Colors
Dr. Mimi envisioned a clean and organized dental website. The light colors are friendly and inviting to visitors of their website. Bright imagery with a soft palette represents the spa-like atmosphere Westlake Smile Studio recreate in their office. The featured services are visible on every page for easy access.
Marketing Aspect
This clean and appealing website takes no time in engaging the visitor, prospective patient. Contact information is clearly presented on the front page as is an appointment scheduling form.
Bates Dental
Use of Colors
We adopted a neutral color palette with deep undertones that complement the existing color scheme within the office itself. Shades of dark brown and beige give authority to Dr. Bates and the practice, which he has committed to operating with excellence in care. It also helps the practice appear more established and powerful – something new patients often look for in a dental care provider. Since this practice prides itself on providing a wide-range of in-office procedures, the website gives the impression that Bates Dental has the expert care a patient is searching for – no referrals necessary.
Analysis of Design Elements
We made the best use possible of every space within the Bates Dental website without confusing the eye. Instead, we used the full width of the screen to captivate the attention of the viewer while minimizing the appearance of navigation menus. The small menu sits discreetly to the side, encouraging the viewer to instead move through the site in a way that highlights featured information. The parallax scroll effect intrigues visitors with imagery that appears stationary behind foreground text.
Smile Moderne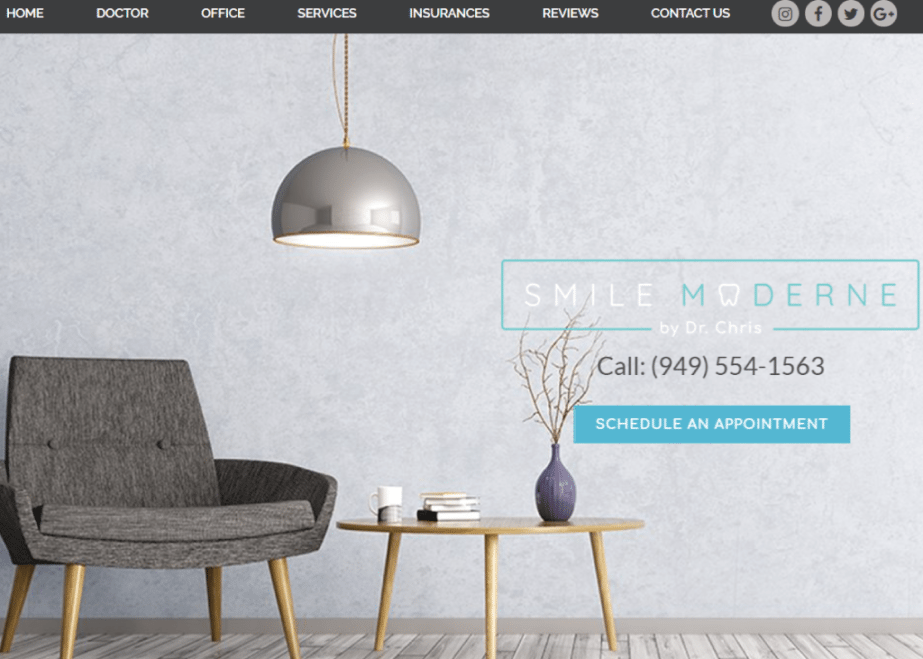 Use Of Colors
This website has a slick and modern look using light blues and sparkling whites, two colors that together send a few messages that can be important to a dental patient. White is the color of purity and professionalism, but also has some undertones of 'high tech' thanks to the association with laboratories. The light blue sends a subtle feeling of comfort and compassion but also boosts that high-tech feel with a slick and futuristic integration with the white tones. This site suggests that the facility it represents is dedicated to the latest tech in the practice of dentistry.
Analysis Of Design Elements
This design isn't just young; it's slightly forward-looking, even futuristic in its design. While all of the elements involved are common in website design, it's their implementation and presentation that keeps things slick and moving on this site. From a human perspective, it's clear that this practitioner wants to welcome you to his site and get to know you so that the two of you can design a plan for your oral health together.
Neil Hadaegh
Dentistry Beverly Hills
Use of Colors
Beverly Hills is a city that is very sleek and sophisticated. We opted for a dark color scheme with a black background that complements the nighttime shots of Los Angeles that are exhibited on the website. When used tastefully, a dark, black color scheme is both classy and timeless – much like Beverly Hills itself.
Analysis of Design Elements
This is a highly visual website with many modern design elements. Most notably, visitors will notice the scrolling header images on the home page that fade one into another. These pictures show off shots of Beverly Hills, helping locals and out-of-towners alike learn what to expect from a visit to this office. Scrolling patient reviews catch the eye of site visitors, and a link to the practice blog helps give the practice a more personable and friendly reputation.
Irvine Endodontics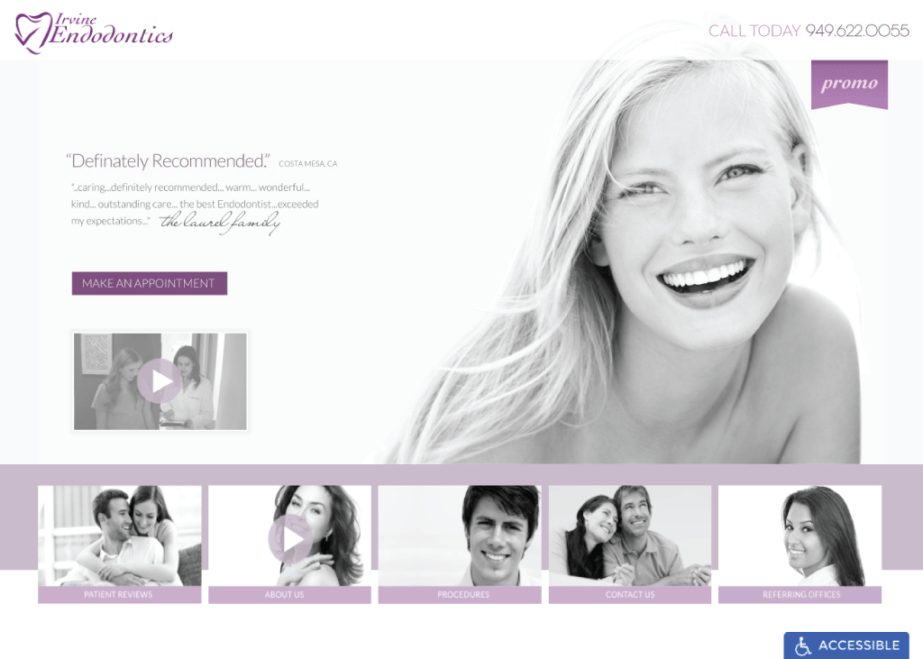 Use Of Colors
The initial impact a visitor receives when they visit this website is a splash of brightly colored links to sites that will verify the Irvine Endodontics reputation in the community. The video background creates interest and draws the patient in, but its gray-scale presentation doesn't detract from the impact of those links, or the bright orange make-an-appointment button at the bottom. The color selection for this appointment link is based on research that shows that orange and yellow drive visitors to action, in this case, clicking that link.
Analysis Of Design Elements
There are a few subtle things at play with the design of this website, some of them less obvious than others. After you've been introduced to the office, it isn't the last time you're presented with a set of eyes that encourages connection. While the image of the microscope showcases the technology they use in their procedures, it also is presented in a way that is suggestive of a pair of eyes focused on the viewer. The shape of the microscope's design is reminiscent of an old friend with compassion for your plight and passes that sense of comfort to the visitor.
Chu Dental Group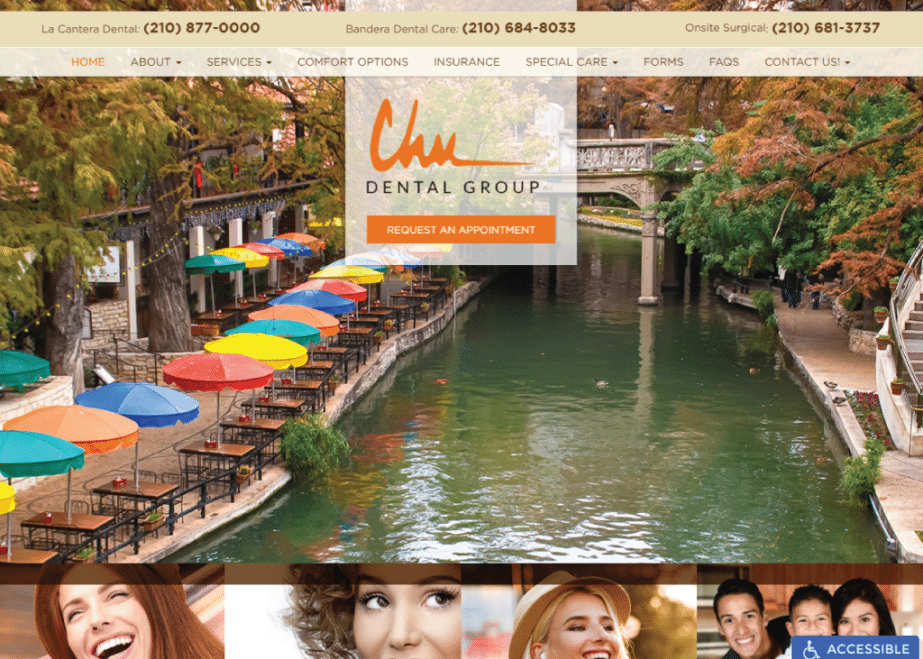 Use Of Colors
Warm, inviting oranges and earth tones run through this website, colors that are psychologically associated with enthusiasm and warmth. Beige is known to evoke ideas of dependability and relaxation, and we feel these aspects come together in a way that is both aesthetically pleasing and achieves its goal effortlessly. The rich browns used to showcase the various services they provide combined with the subtle autumn tones in the images themselves inviting viewers to investigate and find out what the office can do for them.
Analysis Of Design Elements
This website is laid out in a way that is as accessible and inviting as the Chu Dental Group itself. Their phone numbers are listed at the top along with an attractive presentation of links to information about the treatments offered by their clinic. Everything in it engenders the sense of ease and comfort the client was looking for, with a smooth flow of design and color that is rare even in the most well-designed websites. It also does an excellent job of presenting the unique approach the facility takes, introducing their philosophy, the doctor, and Macie the on staff therapy dog, capping it all off with a set of testimonies from their clients.