Comparison Table – Some data is estimates
Name
Age
M/F
Years
Cost
Facility
Rate
Fay Man.
40s
F
20
$$$
10/10
Jimmy Pham
30s
M
7
$$$
9/10
Michelle Lee
30s
F
13
$$
9/10
Payal Doh
40s
F
8
$$$
8/10
Max Lin
30s
M
11
$$$$
7/10
Best root canal specialists in Orange County, CA
Every day, web users perform tens of thousands of local searches for a variety of dental and medical specialties. Many are specific searches by the doctor's or practice's name while most are general and broad like 'best endodontist near me'. For this article, we're looking at the community of Irvine, California in the heart of Orange County. Irvine has a population approaching 300,000 residents, nearly 100,000 households and a median income of $95K.
Finding a quality endodontist in Irvine could be quite a challenge. A simple Yelp search for an endodontist in Irvine returns 414 results. Who has the time to sort through this many to find the one that suits your needs?
We've compiled this Top 5 list based on the endodontist's market exposure, the quality of their current online ratings and the presentation of the practice on their website.
---
1. Dr. Fay Mansouri
Irvine Endodontics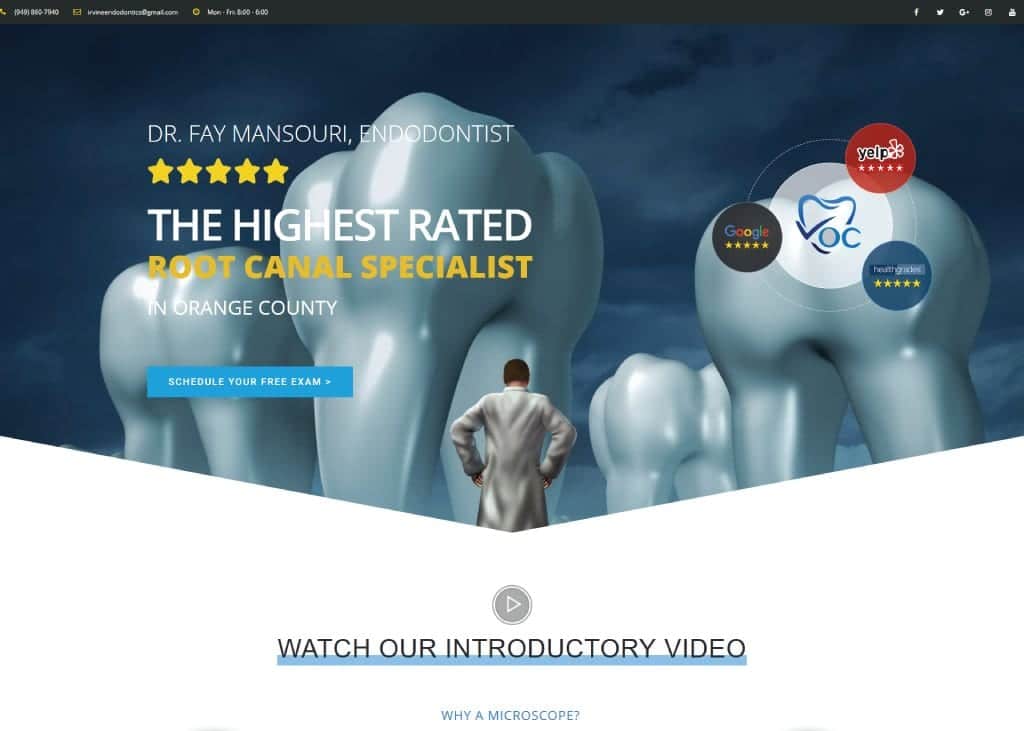 irvineendodontics.com
22 Odyssey, Ste #125
Irvine, CA 92618
949-860-7940
| | | |
| --- | --- | --- |
| Google: 4.9 Stars (73) | Yelp: 4.5 Stars (148) | Healthgrades: 4.3 Stars (6) |
Dr. Mansouri certainly lives up to her outstanding online ratings. And her office definitely knows a thing or two about SEO and how to secure great search rankings. Any online search for an endodontist in Irvine, CA will highlight Dr. Mansouri's office several times.
The website is just like what good teeth should be – clean and fresh without any clutter. A slick background video in the header draws you right into the call-to-action of scheduling an appointment. For existing patients, the website is a tremendous resource, providing valuable information about what to expect and post-operative suggestions.
---
2. Dr. Michelle Lee
Irvine Endodontist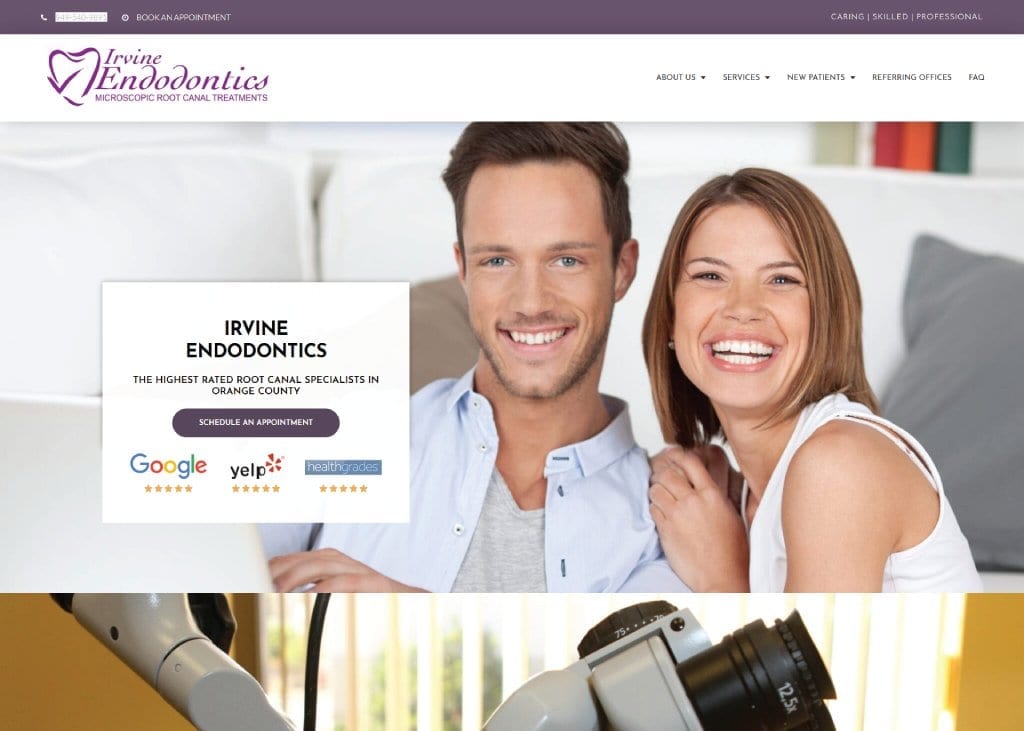 irvineendodontist.com
22 Odyssey, Ste #125
Irvine, CA 92618
949-540-9891
| | | |
| --- | --- | --- |
| Google: 5 Stars (4) | Yelp: 5 Stars (5) | Healthgrades: 5 Stars (4) |
A referral is not a necessity for an endodontist, but a majority of patients rely on their primary dentist to refer them to an endodontist specialist for root canals and other oral surgical procedures. Dr. Lee in Irvine wisely promotes this on his modern-looking website, and it looks like this is paying off for him. While the website is designed with the dental patient in mind in bolding supports incoming referrals from other general dentists while satisfying the curiosity of the referred patient.
Across Google, Yelp, and Healthgrades, Dr. Cho is maintaining a perfect 5 Star rating.  Keep up the great work!
---
3. Dr. Jimmy Pham
Irvine Root Canal Specialists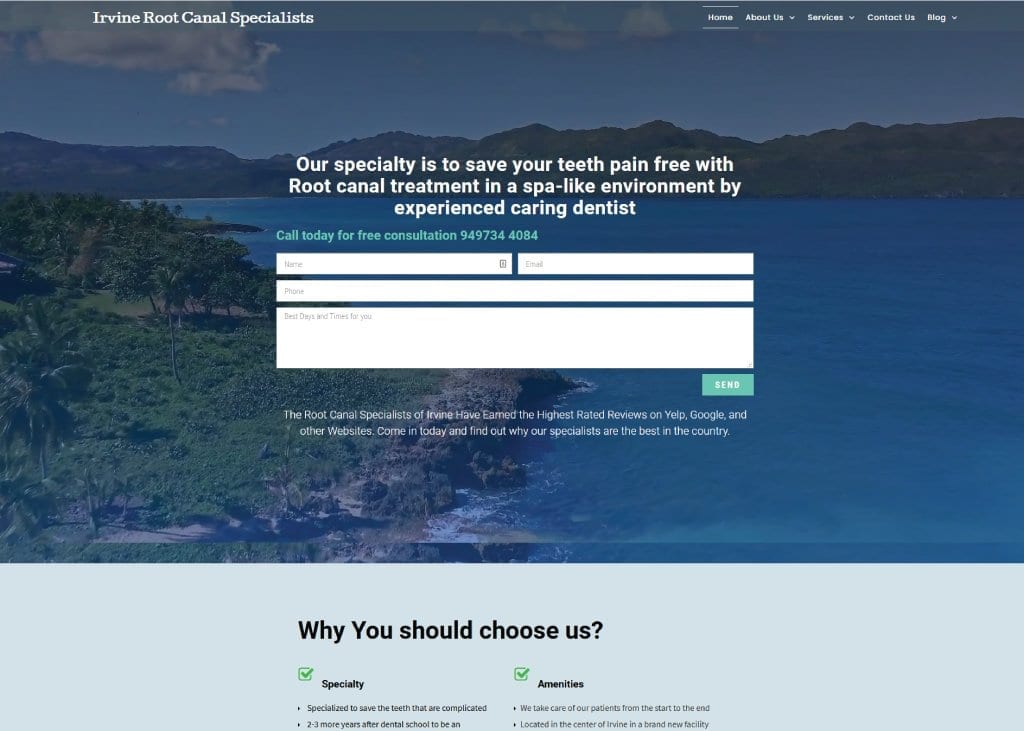 irvinerootcanalspecialist.com
22 Odyssey, Ste #125
Irvine, CA 92618
949-734-4084
| | | |
| --- | --- | --- |
| Google: 4.9 Stars (73) | Yelp: 4.5 Stars (148) |   |
Dr. Pham is touted online as a hometown product, having attended the University of California Irvine. And from reviewing his online ratings, just shy of perfect 5 Stars you can see how well he is connecting with the community of Irvine. His website showcases Dr. Pham's credentials but with a personal, inviting touch.
The website's video header of water crashing against the shore places the visitor in a state of peace and comfort, and they haven't even visited the office yet – very smartly done. A prominent 'free consultation' call-to-action gets right to the point without wasting any time navigating around.
---
4. Dr. Payal Dholakiya
Orange Coast Endodontics
orangecoastendo.com
4330 Barranca Pkwy, Ste #115
Irvine, CA 92604
949-234-6933
| | | |
| --- | --- | --- |
|   | Yelp: 4 Stars (24) | Healthgrades: 3 Stars (2) |
Dr. Dholakiya seemingly likes to keep things simple and easy. From solid SEO rankings, above-average online ratings and a no-nonsense, nothing-fancy website she gets immediately down to business.
---
5. Dr. "Max" Lin
Pacific Endodontics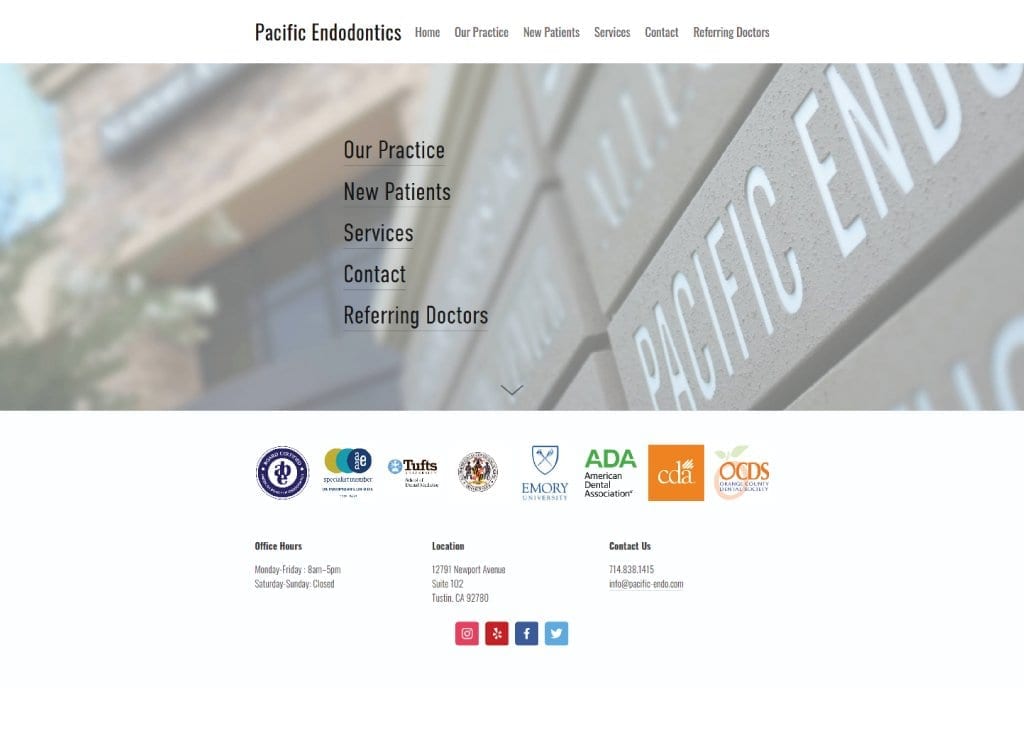 pacific-endo.com
12791 Newport Avenue, Ste #102
Tustin, CA 92780
714-838-1415
| | | |
| --- | --- | --- |
| Google: 5 Stars (21) | Yelp: 5 Stars (76) |   |
Pacific Endodontics and Dr. Lin earn an Honorable Mention for Best Minimalist, yet in the Top 5 Endodontists in Irvine, CA. Dr. Lin's office appears on the second page of a simple Google search, provides an incredibly simple (looks homemade) website, yet has managed to garner a perfect 5-Star rating on both Google and Yelp.