Chiropractors are among the most skilled advertisers and marketers in the healthcare space. For years, they have been ahead of the curve in medical marketing. Many chiropractic websites have elements in them that peers should adapt, in fact, many of the elements found among the best chiropractic websites should be used by any profession in the health care industry. Let's see what makes each of the following sites memorable.
Number 5 – Lakeview Chiropractic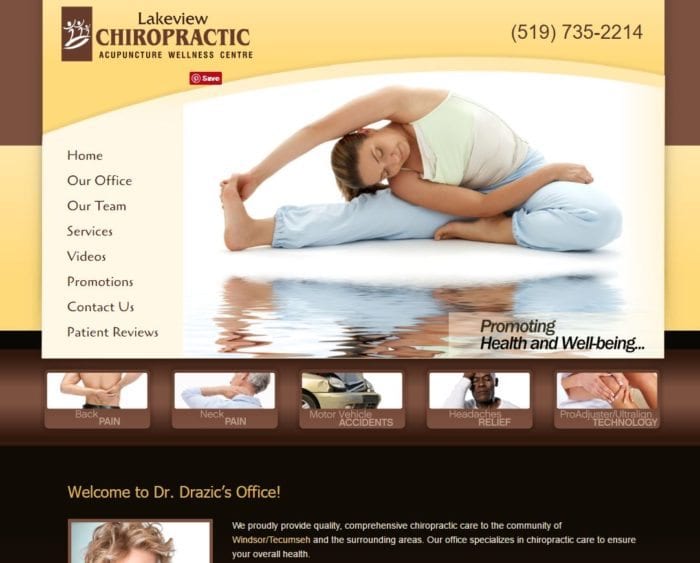 Lakeview Chiropractic has one of the best home/landing pages. When a visitor arrives at the site, the navigation tools are immediately seen. The Navigation Panel includes all of the following,
Home
Our Office
Our Team
Services
Videos
Promotions
Contact Us
Patient Reviews
The site is equally friendly to new patients and returning patients. New patients can review the Chiropractors credentials, services, information on billing policies and more. Returning patients, as well as new patients, enjoy the ability to make an appointment online. Proof that chiropractors are exceptional at marketing is the inclusion on this site of patient testimonials. Overall, Dr. Drazic D.C, has done a great job with his site, especially his home/landing page.
Number 4 – Los Altos Spine & Sports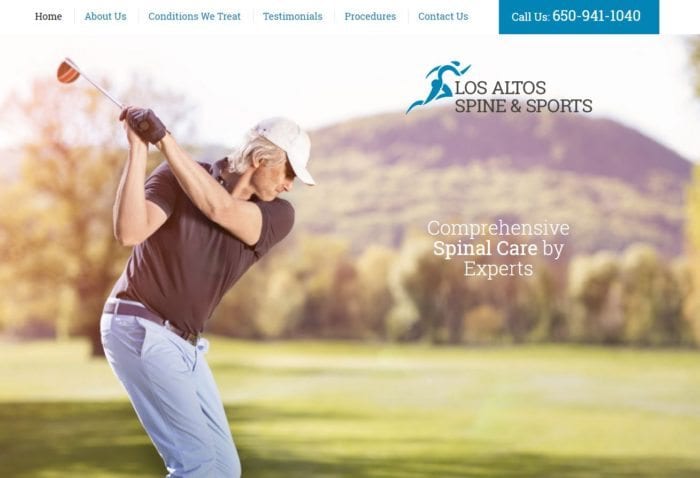 There is no legal entity called Los Altos Spine & Sports, the name is used as a central online space for three health professionals – 2 chiropractors and 1 physiatrist. Even though each has their own private practice, they share common office space and staff.
On the "Office Policies" page they explain with complete transparency how their setup works.
Whoever designed this site had a number of challenges created by the unusual office setup, but all were met with professionalism. The site excels in introducing each of the three providers, fully explains financial procedures, offers a complete service listing by the provider. It is interesting to note, that the photo on the office policies page includes all providers with their support staff. This image is a powerful way of telling the public that while the three practices are separate, all work as a team to promote health.
The Office Policies page also includes additional information for patients that sends them to other sites for education and information about the spine, pain management, and more. Transparency, organization, and successfully combining the three individual practices makes this site a worthy contender for a top spot in our list of Outstanding Chiropractic Websites.
Number 3 – Lighthouse Wellness Center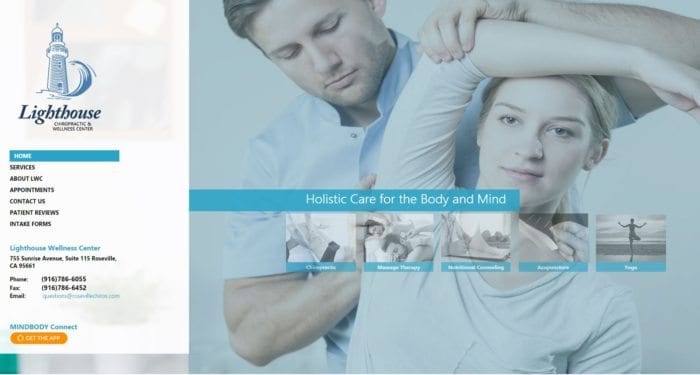 Consistency, communication, and compassion to its patients. This is evident when visiting their website at the Lighthouse Wellness Center.
Consistency is shown on the site as the layout and color schemes for each page on the site is uniform. This makes navigation throughout the site easier as you only need to learn how to navigate on one page to navigate on all pages. They also participate with Mindbody, a downloadable app that lets you schedule appointments and keep track of your fitness progress. Mindbody also works well with the Fitbit Activity Tracker. This practice
Communication is also ranked as excellent on the site as the site clearly outlines its services, payment options, and office policies. Included on the site are downloadable intake forms.
Compassion is not an item normally ranked, but this health care provider site wants to let the patient know that if they need services but cannot afford them they have a Hardship Pricing program. The site explains this as follows,
"Our mission at the Chiropractic Health Center is to help as many people as possible to attain optimal health through chiropractic care. If you need and want our help, but you can't afford our services, we will formulate a plan to meet your budget."
One other factor that this site excels at is conciseness. Rather than using a lot of medical jargon, services, and other items about the practice are told in easy to understand English.
The takeaway from this site is that the four Cs, consistency, communication, conciseness, and compassion make this a top-notch Chiropractic website.
Number 2 – Heritage Chiropractic Health Center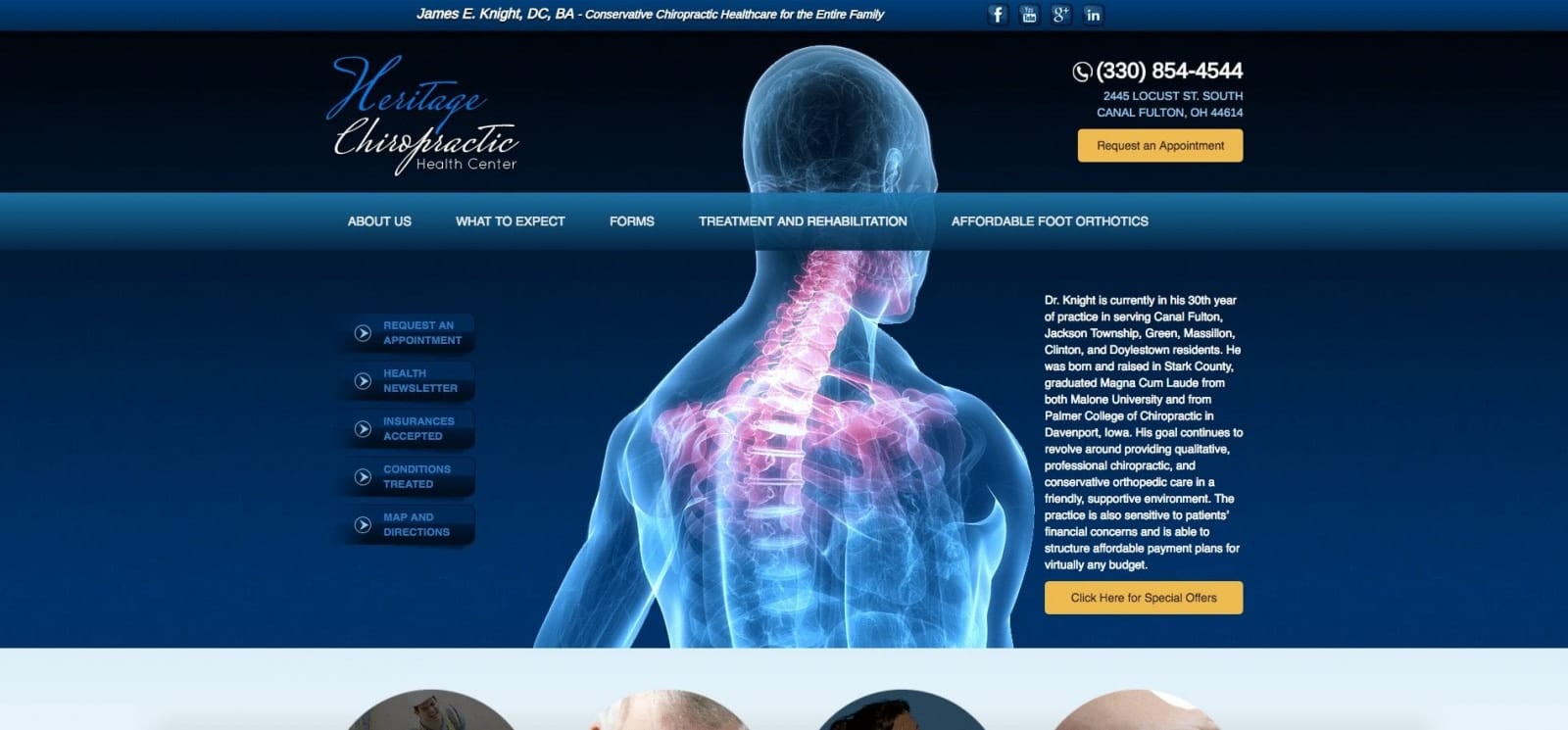 Heritage Chiropractic Health Center is an Ohio chiropractic center that has an excellent website. The top third of every main page is the navigation panel. The middle third of each page is for content, and the bottom third has three features office hours, recent blog entries with a link to all blog posts, and an online appointment request form. There is also a place at the bottom of each page telling visitors that the practice is a participating member in Wellness.com.
Clear language, consistent navigation, downloadable new patient forms and online appointment requests, as well as an educational blog about health issues, are all features that make the Heritage Chiropractic Health Center an outstanding site.  Add in a subdued, very nice looking blue background and lots of images takes the site from outstanding to excellent.
Number 1 –  Synergy Health Center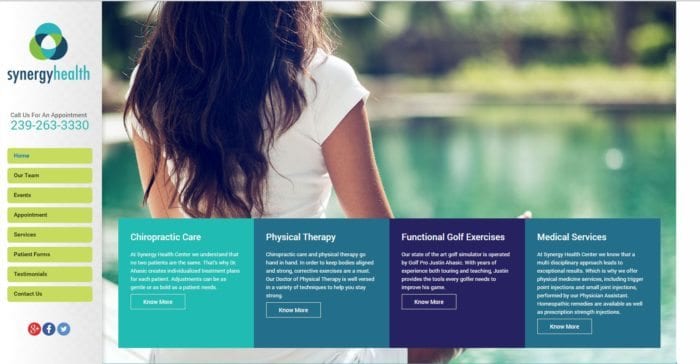 The synergy you get at Synergy Health Center is the combination of chiropractic care with physical therapy. This allows for better management of sports injuries. The practice's landing page/home page is full of information that is provided in an informational and informal way. The services provided are,
Chiropractic care
Physical Therapy
Functional Golf Exercises
Medical Services
Acupuncture
Massage therapy
Bone-density strengthening
Synergy shows amazing audience targeting. Located in Naples, Florida which is a spot where retirees are flourishing, the functional golf exercises get patients into the sales funnel quickly. The other service that is geared to retirees is bone density strengthening. People older than 50 are more likely to develop osteoporosis than younger folks. Announcing this service through the website shows an excellent example of web design that converts clicks into patients. This is the best site as it targets specific audiences (golfers and retirees) as well as other demographics in Naples.
All sites share some common features that are important to creating an outstanding chiropractic website. These features include:
Optimized for mobile users
Allows for online appointment requests
Have great designs
Inform and educates patients
Have consistent design from page to page
At Optimized 360 we design our client's sites from the ground up at a competitive price. Call now to learn more about our medical website building services. The phone number is 800-997-9368.