A gorgeous website is about a lot more than looks. In fact, the way your website looks is only the tip of the iceberg when it comes to marketing your practice and impressing prospective and current patients. An effective website should look good, meet the needs and expectations of visitors, and deliver a message that moves visitors.
You can see some examples of exceptional orthodontic website design in much of the work that we have done in 2017. Each of these websites exemplifies some of the best practices that are known to be a part of an effective website.
SEO Friendly
Beyond the content of a website, which is often attributed to a site's SEO performance, is the technical side of SEO. This is what happens on the backend of a site. The technical portion of your SEO plays a huge role in getting an orthodontic website to rank. Without it, your content isn't given the best opportunity to shine.
The technical portion of a website's SEO is what helps search engines find content and rank websites. Additionally, certain technical components are taken into account when a search engine is determining how a site should be ranked.
Your website's mobile responsiveness is one of the most important technical features that Google and Bing consider in ranking. When you think of the number of devices out there it can be overwhelming to consider designing a site that works for each one (which is what traditional mobile sites used to try to do).
When a website is designed to be responsive it responds to whatever device it is being viewed on and displays the website in the best way possible. This means images might stack a certain way and your important buttons like contact  or form submissions are obvious, so your website's mission is never compromised.
In addition to designing a website that is responsive, your website's navigation should be obvious and easy for an algorithm to understand. Elements like photos should have tags that tell search engine spiders what they are.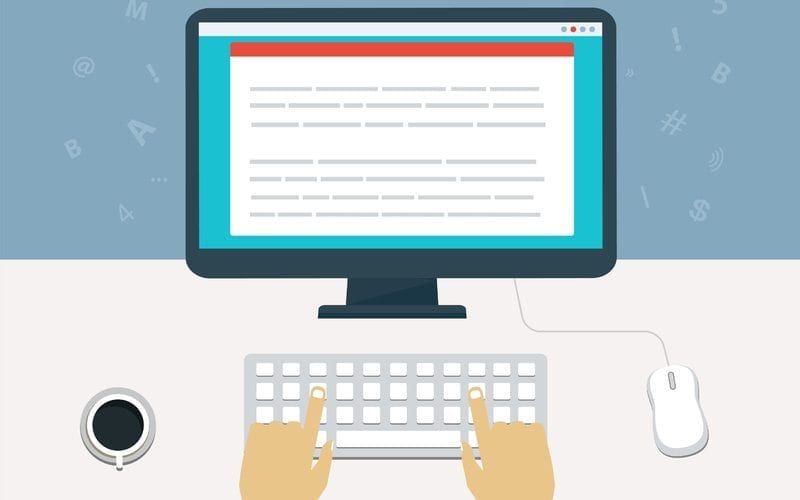 When designing a website for an orthodontist, it is important that you give it a personality. The last thing you want is some cookie cutter template website that anyone with a PayPal account can acquire.
One of the best ways to give your website a personality is by including a blog on it. Your orthodontist's blog will be your own personal soap-box where you can answer common questions, post about topics you're passionate about, and include information that is relevant to your audience.
By including a blog on your website you're not only producing valuable content that visitors will enjoy reading and get something out of, but you will also be creating content that is indexed by search engines.
This can help bring visitors to your website who stumble upon your site through organic search terms.
Feature Specialties
Its also important that you feature your specialties. These are, after all, what set you apart from the competition and make your practice unique. Your inclusion of these on your website immediately tells visitors whether you're the right person for their needs or not.
Check out some of these exceptional examples of top notch websites that truly help accomplish goals.
This website was designed to encourage visitors to take action. The practice was keen on utilizing colors and white space to create a site that is both attractive, informative, and subtle. They didn't want to overwhelm visitors.
You'll notice:
the beautiful large image of the doctor as soon as you land on the site
contact information prominently displayed
a call-to-action that is obvious and easy to access
a navigation that stays above the fold and stacks neatly when viewed on mobile devices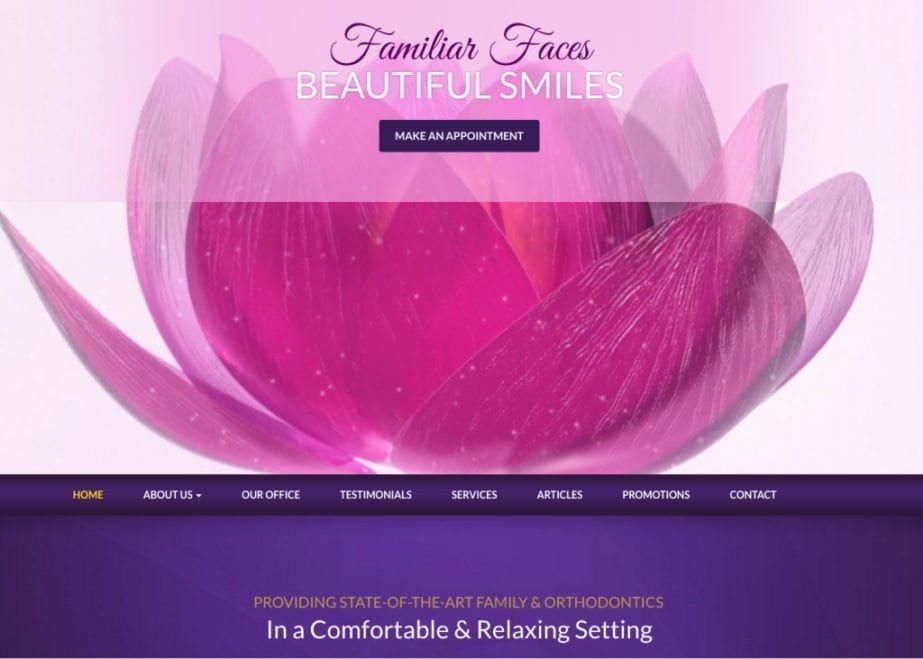 The team at And Smile wanted a website that captures a visitor's attention from the moment they land on the website. An animated background accomplishes this. Additionally, the color scheme is one that captures the essence and elegance of the brand, without being overwhelming.
What else is great about this website? Here's what we think:
clear contact information makes calling quick and easy
an online chat box allows the practice to capture and engage visitors who may not want to talk on the phone
the call-to-action to make an appointment is front and center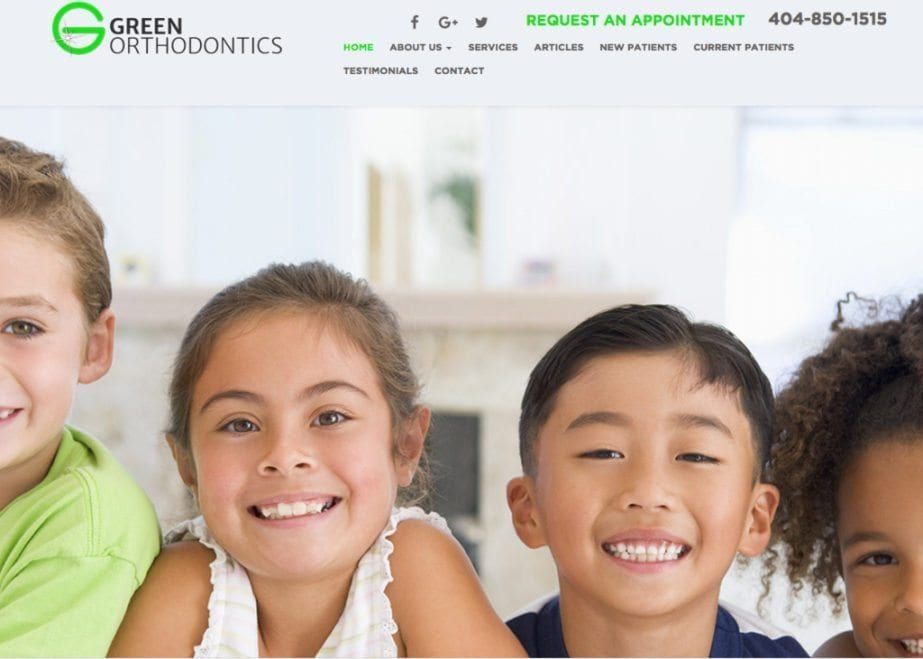 This website is playing off of the doctor's name, which is a clever way to make yourself memorable. And while it would be easy to go over board with the use of the color green, our designer made it a point to subtly insert the color so visitors aren't overwhelmed.
This website is:
clean – it's expertly uses white space to balance text and images (read this article to read more about white space)
clear – the call-to-action to schedule an appointment is right at the top of the page
simple – there isn't a lot of fuss or muss to distract visitors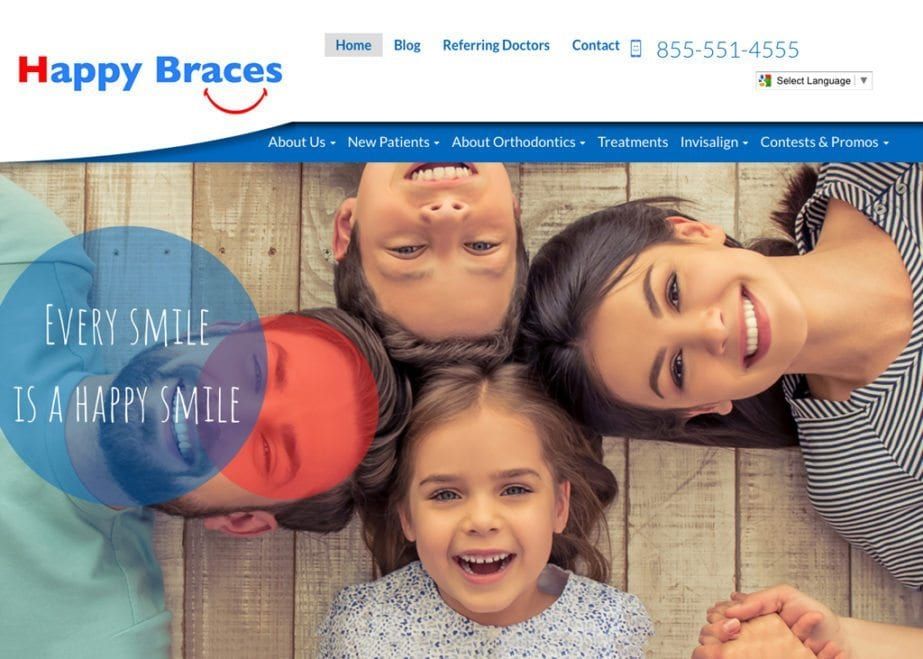 Happy Braces is a unique Invisalign website that was targeted to appeal to a wide range of ages and demographics. This practice offers a variety of treatments and features a menu that clearly directs visitors to the best place for them.
Here's what else is great about this website:
a contests tab in the main navigation encourages engagement by visitors
graphically this website perfectly captures the diversity of their target audience
the lead capture form is short and simple, thus encouraging more submissions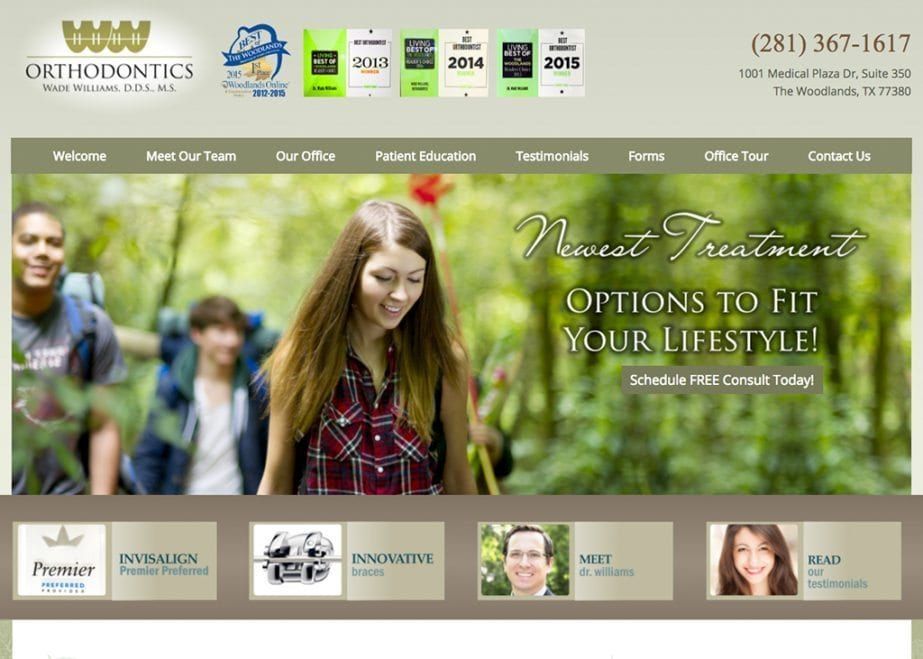 Attractive, clean, and designed to appeal to its high end target audience, the Wade Williams Orthodontics website is a great example of form and function working together.
It features:
an extensive menu at the top of the website that stacks in order of importance
a call-to-action to schedule a free consult
prominent display of community awards