This subject never gets old, even though we've written dozens of posts about making the most of your SEO strategy. We are routinely asked by dentists and physicians just like you, "how do I get to the top of the search pages?" Our post last week "Top 4 Reasons Your Website Isn't Ranking High and How To Fix It" needed to lead off with the suggestion that no one wants to hear "be patient with your SEO".
Truth is, many of you don't have the patience to wait for all the back-end hidden magic of real SEO to take effect. You may need SEO ranking and new patients now.
But what is the #1 way to get on the first page of Google search fast?
You may need to buy your way to the top with a solid Pay-Per-Click (PPC) campaign.
With a well-designed, well thought out PPC campaign, your dental or medical practice can be on the first page for a host of specific keywords within a day or so. However, the clicks you will be purchasing can cost anywhere from a few pennies to several dollars each. For any PPC campaign to be managed and optimized effectively, it's wise to enlist the experience of a firm that can manage it for you.
What Does a Paid Ad on Google Look Like?
We will make this as simple as we can, and break things off it little chunks. When you search for something on Google, you are presented with results that fall into three categories: the PPC ads (shown and the top and often the bottom of the page), the local search results, and finally the 'organic' search results. PPC ads do allow you to leap right over the well-entrenched competition experiencing good organic ranking and position you at the very top, or near the top of the page where all web searchers look first. Who looks at page 3? Nobody.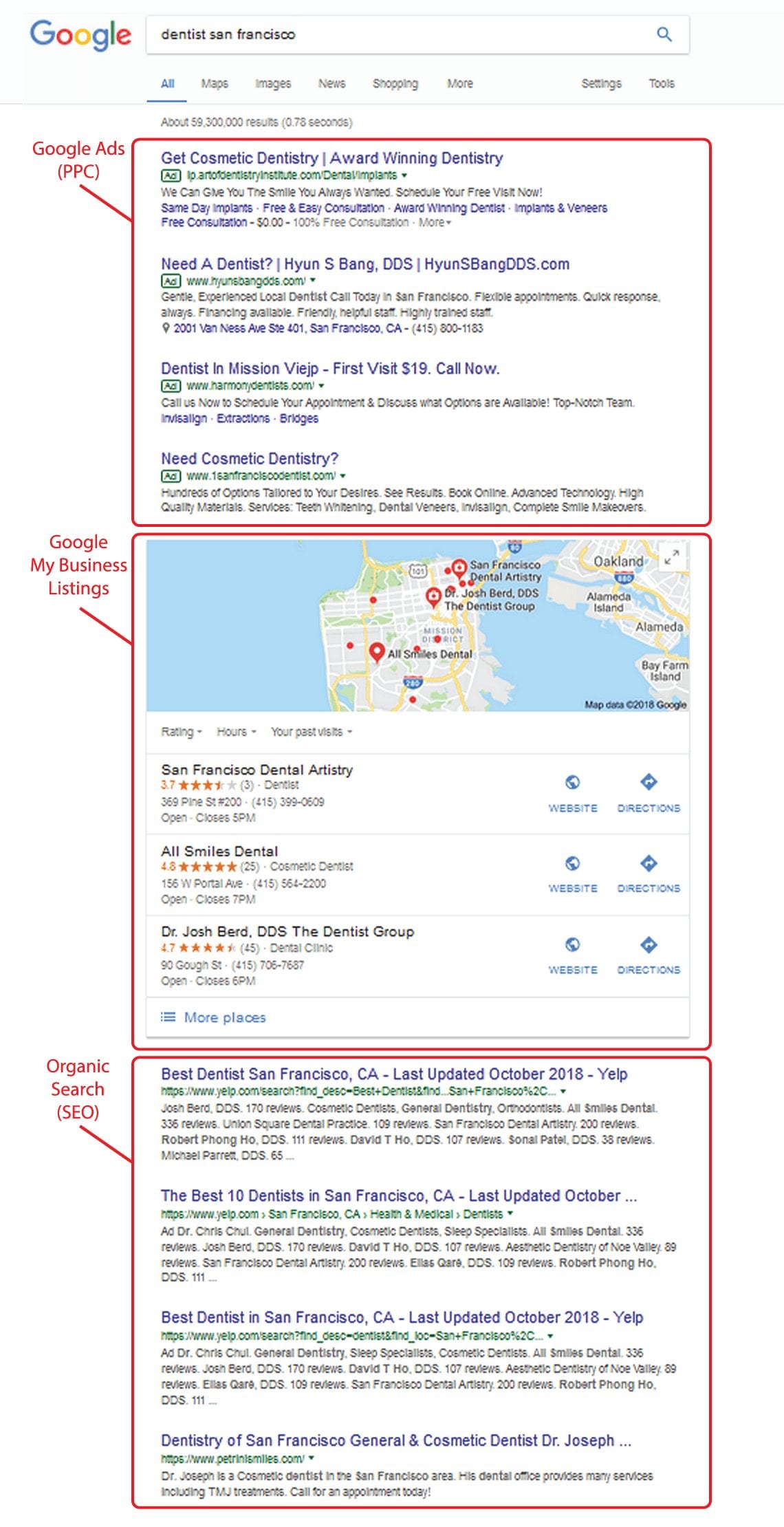 For a more detailed analysis of the Google search results page (SERP), please read this article.
Let's Review the Key Benefits of Utilizing Google PPC Ads
Done well you can reach the right audience.
By selecting the right keywords and other criteria including demographics, you can capture web searchers who are already looking for a service exactly like yours. For example, a searcher looking for a well-rated dentist in a specific town would probably search for "best dentist near me" or "top dentist in my city". Having that sort of pinpoint accuracy is incredibly valuable in your marketing efforts and well worth the extra expense compared to traditional broad marketing and advertising.
You can promote a specific message.
By using an eye-catching headline and two lines of descriptive, positive text in your ad copy, you will have the opportunity to communicate the main benefits of your office and its services and your unique specialty to countless new patients before they've even visited your website.
You only pay for actual engagement.
As the term implies, you only pay if someone clicks on your PPC ad, and they'll be directed immediately to your website or landing page. Your website and page had better be worthy of this paid click and be able to 'convert' this click into a new lead for your business. More about this subject in a future post. And remember, even if no one has clicked on your ad, it will still be displayed on search results regardless. This zero-cost visibility (branding) could be useful in establishing your practice in the community, leading to future 'click' Plopportunities.
Please Take This Advice From Experts in Online Marketing
If you're going to do it yourself, please be cautious with Google Ads. Google is notorious for making it very confusing and easy to burn through quite a lot of your money creating and setting up new ads. May we suggest that you leave it up to the professionals to create and manage your Google Ads campaigns?
Just like any tool, if Google Ads are not used smartly, you will quickly exhaust your precious and scarce advertising money with no new patients to show for it.