If you've been looking into marketing your dental practice, there's a high probability you've come across the term "content is king" several times. And while it's true that content is crucial to ranking in search engines and meeting the expectations of your site visitors, there's a lot more to creating a dentistry website than just content.
But before we look at the stylistic aspects that make an impact on how dental marketers carry out their strategy, let's consider the role of content. Once we understand its importance, we'll be able to see how style works in tandem with it.
Content is important for several reasons.
It provides useful information to visitors. You can use your content to not just communicate a marketing message, but also to actually help visitors on your website understand what you do, how you can serve them, and the ins and outs of various procedures you provide.
Content adds value to your website. Instead of sending someone to your website to simply find out what your phone number is or where you're located, content provides visitors with actual answers to questions they might have.
Useful content makes your website sticky. This means that people are more likely to return to your website for information and ultimately could become repeat business in the long run.
Part of supporting your website's content, however, is having a plan to actually accentuate it. This is where styling comes into play.
Website styling includes more than just how it looks. It includes the tone of your site, how elements are laid out, typography, and more. Your website's styling should be consistent, flexible, and easy to update.
Images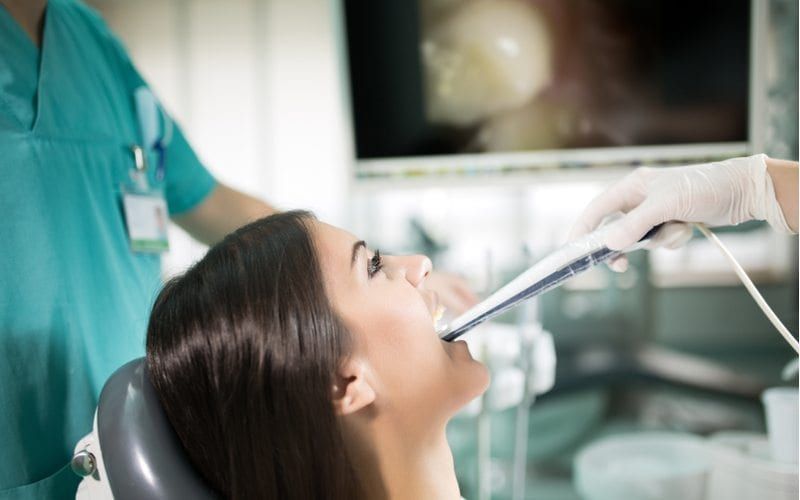 One of the best ways to compliment the content you have on your website is through the use of images. Images not only help to communicate a message, they also help cater to individuals who prefer skimming over reading. Additionally, many of the images on your website are used to pull into social shares and can make a difference in whether a person clicks on a link to your website or not.
How images are laid out on your website impacts how people view and absorb them. For example, if an image is placed front and center with no context, it simply looks out of place. Similarly, if a website is all images, it can look messy and confuse visitors on what the actual messaging is.
Your dentistry website should strive to integrate high quality images into every page. Each of those images should be placed in such a way that you can read the content around them, but also get the general idea of what the page is about from the image. Additionally, you need to make sure you include alt text with every image. This helps with search engine optimization and ensures people with disabilities will be able to use screen readers to more accurately understand the page.
Tone
The tone of a website's styling should communicate your overall brand identity. This is accomplished not just by the tone of the content written for a site, but also through the colors and images used. Your tone should be the same throughout your practice's branding, website, and external communication pieces. So whether you choose internet or outbound dental office marketing ideas you're ensuring consistency across the board.
Layout
The thing the best dental websites have in common is a layout that caters to their visitor's needs. The layout of your website should lead people through various funnels designed to get them to accomplish something. This might be reading your blog, filling out a form, or scheduling an appointment. Whatever it is you want visitors to do, your site's layout should accommodate that.
This means that the most important things should be at the top of the page, while those that are less important can be placed "below the fold". Additionally, things like call-to-actions should be obvious and A/B testing should be used to make sure you're getting the most out of whatever CTAs you choose.
Typography
The final component of all good dental website designs is typography (read about typography in this blog post). Essentially, typography is the appearance and styling of type on your website. Typography is targeted specifically at the reader.
The goal of all typography is to help communicate the messaging of a website or printed piece in the best way possible. So, for example, a dental practice's website would need to consider what their goals are, what the overall tone of their website is, and who their audience is before landing on the best typography for a website.
A quick note about typography. This term is often used interchangeably with the term font, however, the two differ. Font refers to one type of typography, whereas typography can include several types of fonts with varying weights, etc.