Effective marketing is necessary for any business. And the medical field is no exception. Most medical professionals that dabble in online marketing often become discouraged due to campaigns that produce lackluster results.
You could have spent thousands of dollars on a new website, posted a few blogs, fiddled around with social media marketing – and after a few months you began to see no uptick in new patients from your efforts.
Read below to see if you're guilty of these common medical marketing mistakes.

4. You're Relying Too Much Old Fashioned Marketing Campaigns
Do ads in the local paper, outdoor billboards, direct mailers and the like still work? They still do, to some extent. The issue is that they are quickly losing ground to online marketing
An example of this is tracking and targeting:
You have no real means of tracking how many eyes are landing on your print ad placement. You're putting your money on the "word" of the ad provider. Just because 5,000 cars drive past your billboard, it doesn't mean that any one of them will read your ad placement.
People are becoming "ad unaware" where their minds are now so used to seeing local ads and billboards they're now filtering them out at the sub-conscious level.
And targeting, why spend $1,000 for an ad placement that may be seen by 5,000 people, of which only 100 will be interested in your services. When with online medical marketing you can zero in on your audience with pinpoint accuracy.
3. You Are Ignoring Your Online Reputation
Nowadays, online users are paying great attention to the opinions of their peers. With an increasing number of visitors expressions, or vent their frustrations with your medical practice.
Keeping tabs on your online reputation is more important.
Think it's not? Consider this:
A whopping 78% of consumers trust online feedback as much as service personal recommendations.
Poor online feedback can be a blockage even for a word-of-mouth referral. After all, what's the first action a prospective patient take when they're referred to you? They move on to Google to search for your reputation.
Don't think that 20 Google reviews, half of which are unspeakable, will go unnoticed. Either you believe it or not, feedback compiled from hundredths of strangers often trumps personal recommendation.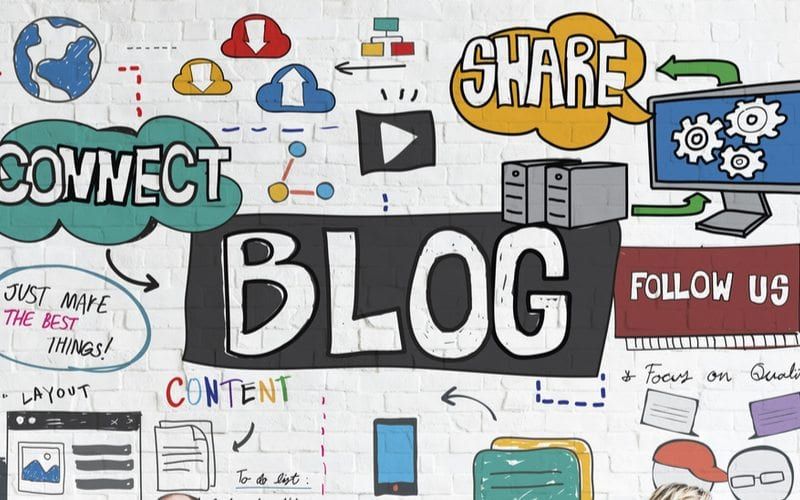 Blogging is a great way to keep your website updated with fresh content regularly.
2. You are Failing to Blog
There are numerous reasons to blog on your website and all of them are valid.
Attract New Visitors To Your Website
As a medical professional, your goal is likely to use your healthcare website to grow your practice and funnel in new leads. Doing so requires your search engine optimization be fine tuned to know what people are seeking answers to and providing content that meets their demands. Once you begin to answer these questions using your content it will be indexed in search engines and show up in searches over time.
Stand Out From Your Competition
You're different than the doctor down the street, so make it a point to show that in your blog posts. By blogging about what's happening at your practice, new technologies you've adopted, and anything else that shows how you're different, you're giving patients a front row seat to watching how your practice is unique.
Engage Visitors
One of the main metrics Google uses to determine website ranking in their search engine is on-site engagement. A blog keeps people on your website, encourages them to click around by reading other blog posts, and encourages them to share your post with their social networks.
Get Your Name Out There
Because blog posts are often shared by visitors to your website, your practice is getting free visibility to a vast network of connections that might need your services. And because the post is shared by people's friends there's an inherent trust that comes as a result.
Optimized360 can help you retire that old website and design for you a beautiful custom dental or medical website.
1. Your Website is Outdated and Not Capturing New Visitors
Most independent doctors have their own practice. And the majority don't have a modern website that converts web visitors. into new patients. Some hire a web designer that doesn't know your business to develop a fancy-looking website, which turns out to be little more than busy digital art.
What is actually missing? A conversion process that sets the website apart from the dozen of other local doctors. Highlighting your services may seem like a good idea. But think about using only the details your prospective patients need. In fact, boring labels with an exhaustive descriptions of medical procedures will only chase away prospective patients.
From the details gathered from thousands of visitors, websites have revealed some glaring conclusions. For instance, the pages every doctor should have on their website. Research shows that five most important pages are the homepage, doctor[s] bio, contact us, about us, and a services page.
Research also concludes that the mission or purpose of your website is to answer one simple question: "Why choose us?"
If your website is like most other medical websites, then your content is dull, uneventful, and unlikely to capture new patients. You don't have custom photography. You don't indicate why you're a specialist in this field. And you don't call visitors to an action at the appropriate moment.
When it comes to medical website designs that converts, think about what the visitors want to experience, not what you want to show them.
So Don't Go It Alone, Get Some Help
While you take care of your patients, you can trust that Optimized360 will work diligently in developing your next website and executing online marketing campaigns that present your dental practice  in the most professional, effective and affordable methods.
For Doctors by Doctors
There is a reason so many healthcare professionals have turned to Optimized360 for their online marketing needs. We understand the complexities of marketing your practice because we exclusively specialize in the dental and medical fields.
We understand your professional needs and concerns, including privacy issues, patient concerns, and the types of procedures that are relevant in your field. Our team can help you get the results you are looking for because we already know what you are looking for.