Who are The Millenials?

Millennials make up about 83 million of the population in the United States alone. How can you tell who is a Millennial, other than the fact that they are constantly staring at their smartphones? By their use of social media. They love it! So who makes up this group of people? Well, it's the age group that was born between 1982 and 2000. That makes them approximately 16 to 34-years-old.
Marketers are trying to figure "out of the box" ways to market to this new population, who is gaining in income equality on their older counterparts, namely the Generation X'ers and the aging Baby Boomers. Old methods of marketing might work for those groups, but new fresher ways to appeal to the Millennials has to happen. This includes medical professional, like doctors and dentists, that want to attract new patients to their firms. The fastest way to get into a Millennials mind is through social media marketing.
Not only most of this age group have grown up in a totally computer savvy world, but their comfortable and trust with the internet is high. That includes all of the most popular social media sites like Facebook, Instagram and Twitter. Yet, it goes further into other forms of social media that an average medical professional might not even have heard of. Vine, Snapchat, Periscope, and Instagram are just a few that doctor and dental social media marketing might need to target. Here are 7 ways to utilize social media to target that all-important Millennial group of patients.
Facebook Is Your Number One Target
You want to as a doctor, or dental office to have a great looking Facebook page. Everyone uses Facebook, and this especially includes the Millennial bunch. They adore Facebook, and check in constantly. It's also used as a reference point when they are checking out businesses online. This will be linked to your own custom website, because nowadays when people are looking up your reputation online they are going to first go to your Facebook page. You can publish articles, helpful tips, and other news about your office that you would like your potential patients and current ones to know. Plus, your current patients will be able to give you referrals through all the contacts and "friends" they have on Facebook, just by liking your page. Your feed will show up on their feeds to their followers. It's free advertising to thousands of people.
Schatz Orthodontics is a great example of an effective facebook page.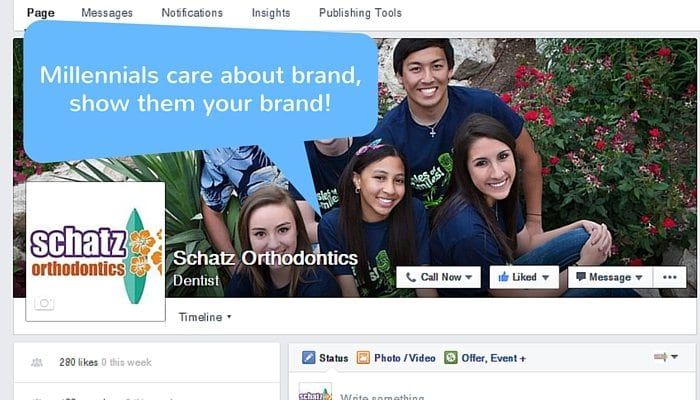 For example, for a family practice medical office, it might be smart to post an article about "preventing the flu during the winter months", so that people can be educated on this subject. Social posting can help build up the SEO for your own website. Try to engage with your patients by asking for feedback directly on your page. Having them "like" or "comment" on posts can make your Facebook page get more attention from others, so you can then market to them as well.
LinkedIn Is a Given
Everyone in the business world has a Linkedin page now. It shows professionalism and gives you an opportunity to network with others in your field.  This includes doctors and dentists who can help support each other. Better yet, you can also network with your patients, and their associate as well. Millennials are put more time, effort and stock in LinkedIn than many other sites.
A LinkedIn account is also great for SEO as well.
Outside of The Box Social Media Sites
You might think it's kind of silly to have an Instagram account for your medical office, but it can be a way to engage with your patients in a more fun way. As a dental office especially you can get into this. You can show your potential clients, "before and after" photos of work that has been done. This is great to showcase whitening treatments you might offer to patients. Millennials are looking for great cosmetic fixes for their teeth, so showing them the potential of what you can do for their smile, will bring them in droves.
An Instagram page generates awareness and brand identity. It's a good place to show your practice's personality and to appear trustworthy. As a dentist, you can show off your masterworks on your Instagram!
Another site that might not be on your radar is Periscope, this is a video-based site that plays off of Twitter. So getting your Twitter account active and linked to your other social media pages can be an important step. The way Periscope works is that it's a live feed video of an activity. If you want to showcase something about your office, this is the perfect way to do that. You can just introduce your staff, or give a tour of your facility. It's just a fun, new way to market your office.
Pinterest Isn't Just For Crafts
Normally when one thinks of Pinterest, they think of crafts, but this is a site that the Millennials have truly embraced. So as a doctor or dentist finding a way to utilize this site is a fun idea. The way that it works is that you can link it to your other social media sites, but you can post pictures on your own wall of all the services you offer.
For doctors who are in the dermatology or plastic surgery field, this is the perfect place for pictures of "after" shots that are beauty in nature. Glamour shots of what you can do for your patients will bring the older Millennial crowd in for their first sets of Botox and fillers. It's really the 28 through 34-year old you are targeting with these procedures. They are more than ready to get on top of aging, even if it's just for the first early signs they are concerned about.
Just Keep Posting
Above all, be consistent and keep all your social media sites up to date. There is nothing worse than a site that doesn't seem active. That is not going to draw new patients to your firm. All those referrals from your existing patients to new potential patients make it all worthwhile. Keep it light, fun, and busy to attract those coveted Millennials to your office. Social media isn't going away anytime soon, so you might as well embrace all it has to offer. Keep in mind that the new generation coming up after the Millennials are even more savvy with everything the internet has to offer. In ten years time, there will probably be even more new ways to market to this younger generation as they hit adulthood!