[et_pb_section admin_label="section"]
[et_pb_row admin_label="row"]
[et_pb_column type="4_4″]
[et_pb_text admin_label="Text"]
Newport Beach, California July 31, 2017 – No one wants to get on the wrong side of the law and its regulations. Dentists and physicians rightly go to great lengths to stay compliant with federal, state and local guidelines to avoid government sanctions and lawsuits from patients. Increasingly, many businesses are finding themselves in trouble for not providing accessibility to their websites for disabled users.
Under Title II of the Americans with Disability Act (ADA), "places of public accommodations" cannot exclude people who have disabilities from being able to participate in what is offered to everyone else. Based on the opinion of many attorneys that specialize in ADA (American with Disability Act) litigation, a website is public. If your practice has one, it is obligated to comply with ADA, no matter the number of employees or size of the practice. In fact, they view your website as a piece of real estate for purposes of the ADA.
"Due to the recent escalation in related lawsuits, dentists and other healthcare providers have become targets for litigious attorneys in the ADA related area," said Dr. Sean Fahimi, CEO at Optimized360, LLC, in Newport Beach, California. "It's easy to conduct a brief website review and send a letter demanding that the dental office fix the website and pay some damages. Our new cloud-based, accessibility engine ADApt™ is a low cost and non-intrusive solution that allows any website to become more accessible. This could help you avoid being a target, plus it's the right thing to do."
More than 240 businesses across the country have been sued in federal court over website accessibility since the beginning of 2015. Over 20 million Americans have difficulty typing, moving a mouse, gesturing or reading a computer screen. They often require assistive technology to interact with a non-compliant website.
ADApt, now available from Optimized360 seamlessly transforms a regular website into a more accessible experience for all users. Through a simple click of the ACCESSIBLE tab page overlay, the ADApt engine presents the content of the webpage in a format that is much more user-friendly and accessible to persons with a disability. The ADApt engine generates text alternatives to many visual elements, helping blind users who may rely on text-to-speech software and/or text-to-braille hardware. Text sizing is automatically adjustable, aiding users with poor sight to read and understand the page's content. The layout of the page is coded so that users can navigate by means of a keyboard, helping users who cannot use a mouse. Page colors, high-contrast graphics and text links are modified, ensuring that color blind users will be able to notice them, and not cause seizures in others with vestibular disorders.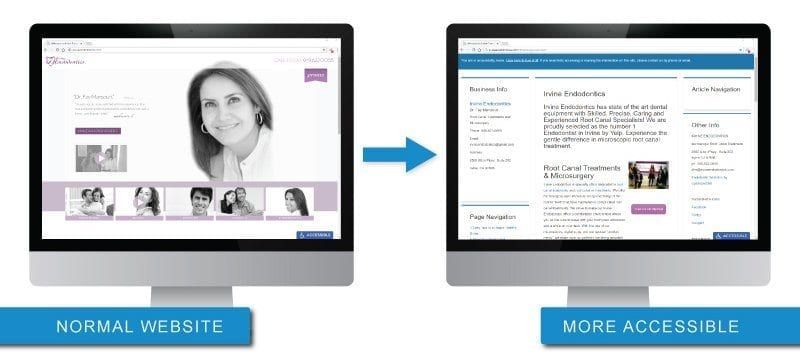 "As dentists and physicians rely more and more on the Internet as a way to provide relevant and up-to-date information to their patients and prospects in a cost-effective manner, they must make sure they are not unintentionally excluding people with disabilities from their online services and offerings," said Dr. Fay Mansouri of Irvine Endodontics in Irvine, California. Ms. Mansouri's dental office's website www.irvineendodontics.com utilizes Optimized360's ADApt engine to provide web accessibility functions through a simple single-click.
ADApt is available from Optimized360 as an add-on component to existing websites, and now included with the several of the company's new website design packages.
About Optimized360 –
Optimized360 is a leading provider of custom website design and online marketing services used by dentists and other healthcare professionals. For more information visit www.optimized360.com or call 800-997-9368.
[/et_pb_text]
[/et_pb_column]
[/et_pb_row]
[/et_pb_section]