Google's SERP layout causing headaches
and confusion with doctors
You've probably viewed it a few thousand times, but do you really understand how and why the Google search engine results page (SERP) is arranged out the way it is? It's understood if there's confusion, Google switches things up and updates their SERPs as things evolve. Why? What worked a few years ago may no longer work today. Many of our dental and medical clients need a refresher – maybe you do too.
If we take a look at the current (October 2018) layout of a typical desktop Google search we now see four paid search ads (PPC) at the top of the page, three that fall below the 4th rank at the bottom, and organic results sandwiched in between. The idea behind the change is that four paid ads that match a user's query is better than the alternative because they're providing more relevant results.
You will notice 3 unique sections on the desktop version of Google's search results page.
Google Ads (PPC)
These ads are Google Ads (formerly AdWords) results displayed at the top and bottom of the page with search results. We can see such ads not only on commercial queries such as "buy my product" but also for informational queries ("find a dentist", etc.)
Google My Business Listings
When web searches use location markers in search queries ("near me", San Francisco and so on), the organic results are usually accompanied with a local pack. This is a map containing address pointers and the list of up to four companies with their names, rates, and other information displayed.
If you have a local medical practice, you should certainly add it to Google Maps. First, local pack attracts targeted traffic. And secondly, even if your website doesn't make to the top of Google results but appears in local pack, the users will still be able to find it on the first page of SERP.
Organic Search Listings (SEO)
Ah, the Holy Grail of online marketing, a listing on the first page of Google without having to pay for a single click. But take a look, with all the paid ads via PPC and the My Business local pack map and listings, there isn't a great deal of real estate for your organic search listing based on your SEO strategy. Doctors like you are going to need to work hard to get their practices shown in this tight space. Read this article to learn how to make the most of SEO.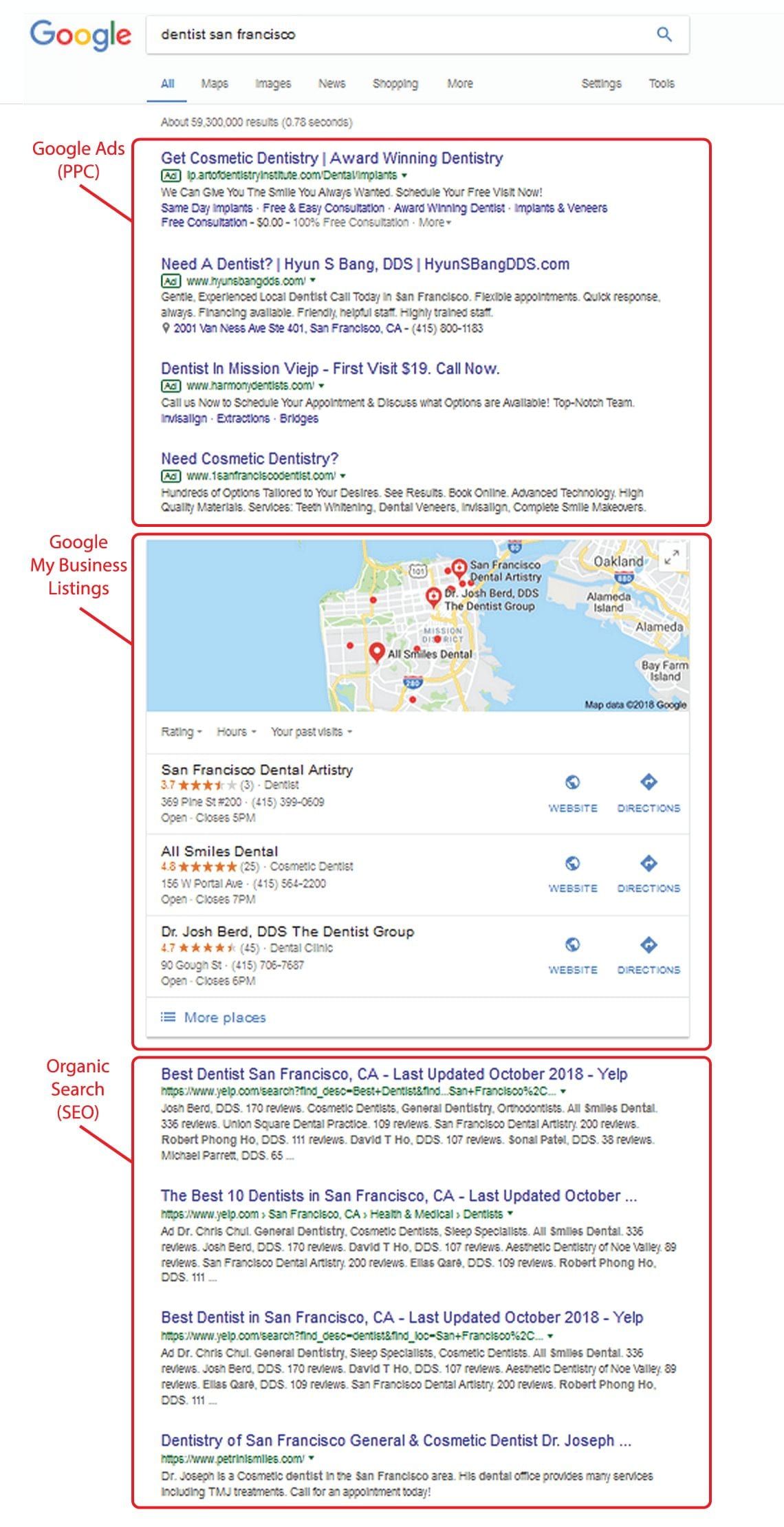 Big changes have occurred recently. You have probably noticed that Google removed PPC ads from the right side of desktop search results. So where are the paid ads now? at the top and bottom of the page.
A few questions and concerns arise with the roll out of this new search results lay out.
Will the organic position of your dental or medical website shift?
Will the percentage of traffic by Google results position change?
The answer to both questions is yes. Because of the changes, your listing and Click Through Rate is at risk of going down as more PPC ads take up scarce organic locations and organic (SEO) results are pushed further down.
All this leads to the realization that dentists and other medical professionals now need to work harder to get found. To counter this, you might want to consider developing a strategy that not only takes organic search into consideration, but paid as well. This (especially) rings true for local businesses because users are now seeing paid ads first.
Reviews are now often listed on the Google SERP. These ratings refer to the user rating of the practice, blog post, or website in general. These are displayed as stars added to an ordinary snippet under the webpage's URL. This feature can appear on any query if its results may contain reviews. It's been proven that a star-rating can catch the users' attention and increase their trust in the represented medical or dental practice. That's why it's important to encourage your patients to leave reviews about your services and treatments.
Optimized360 can help your medical or dental practice rank high on search engine results pages through strategic SEO and PPC campaigns. Learn more about what we can do for you by requesting your FREE CONSULTATION!
We will take the time to review your existing website, run and prepare reports that only we can secure and present to you and show you all the options. Maybe you just need a shot in the arm of some good SEO, or a PPC campaign, or an entire website makeover. Regardless you can trust the experts at Optimized360.