Stand out among the competition
Medical and dental practices are willingly jumping on the online marketing bandwagon. Marketing strategy is no longer all about landing the biggest billboard or securing a prime location in the newspaper. Local Google searches are how people near you are finding medical professionals.
How are you going to stand out from your competition when they land on your web page?  If you are willing to be bold, a dark background medical website may be the choice for you.
One goal of any medical or dental website is to feature services offered. Dark backgrounds provide a great way to showcase images, videos, and products. Before and after pictures put a spotlight on your handiwork while videos of procedures help put nervous patients at ease. Ask your current patients what it is that keeps them coming back and find a way to highlight this on the website.
What is it about dark backgrounds that either attract or repel prospective patients?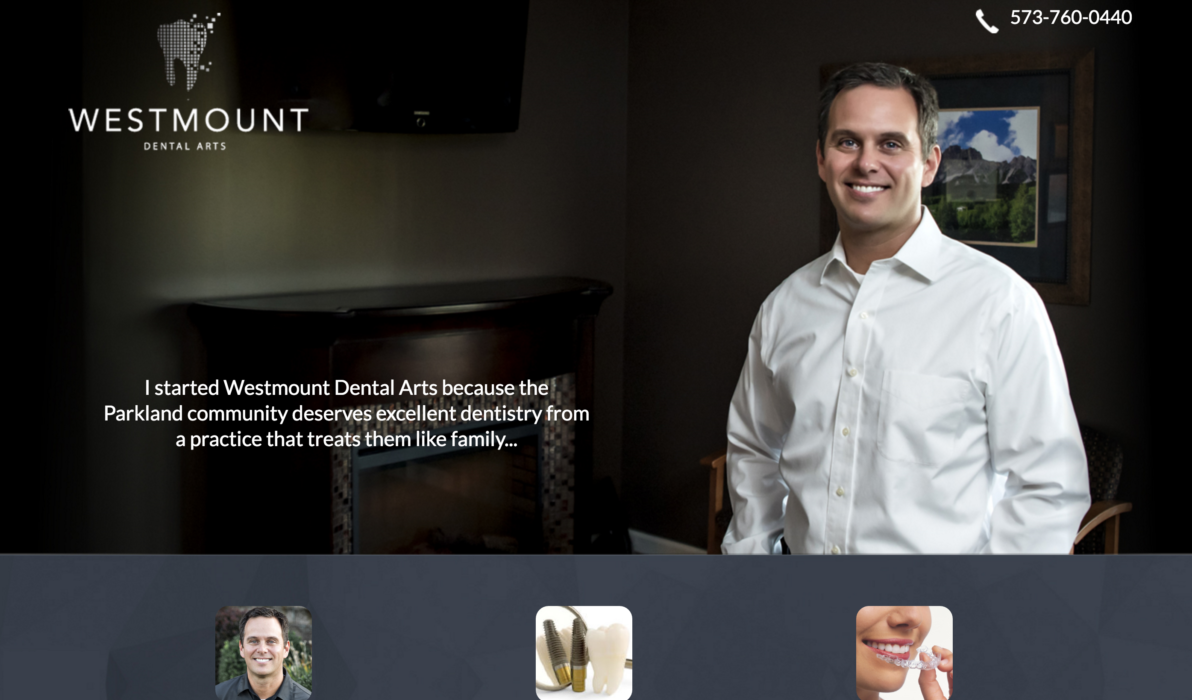 Clarity is harder to achieve on a dark background. Prospective patients must be able to see details and distinguish vital information from filler space. The color scheme you choose should facilitate navigation on your website by drawing attention to the site's most functional elements. These elements should be more clear and obvious because of your use of color. On the flip side, if you throw pops of color around haphazardly on a dark background, it may overwhelm some people and cause them to miss out on your positive attributes.
Readability is a crucial factor in keeping visitors on your page long enough to convert into patients. Even attractive promotions and top-notch services will be lost by the wayside if the text is difficult to read. With a dark background, the minute changes in shades of text or accent colors can be the difference between someone feeling relaxed and at home on your site or running away screaming, i.e., clicking the next search result.
Responsiveness is the term that questions how your color choices and dark background will look on different electronic devices. High-resolution screens make mediocre images look fabulous. Attempt to view the same image on a lower resolution screen or some mobile devices and it may be blurred beyond recognition. Experienced website designers know to run multiple checks while still in the design phase to catch and resolve any issues.
Choose an experienced marketing team with brilliant creative designers

Dark background medical websites are tricky to do well, but so worth the effort if done successfully. Perhaps first and foremost, you must have a solid grasp of your target audience and what they are searching for in your area. People in search of a pediatrician are going to look for a different approach than those searching for a cardiologist or oral surgeon.
Creative website designers can help you choose a color scheme that will highlight your products or services rather than overshadow their importance. The overall theme of the website should mesh well with colors used on the dark background. Keep themes consistent to maintain an air of professionalism. (read more about exploring the use of color in your website design)
Look professional and cutting edge

Someone inexperienced in effective design techniques could end up giving patients the wrong impression. Professional does not mean cold and impersonal. An experienced marketing team will look at your demographics and choose how to turn your dark background website into a warm, inviting place for prospective patients.
Colors that complement one another improve website effectiveness and overall friendliness of design.
Emphasize key points by using one bold color repeatedly to lend a modern feel to your site.
A gray palette may take the right layout over the top if elegant professionalism is your goal.
If you are ready to take the next step in the creation of your dark background dental or medical website, it is imperative that you find an experienced medical marketing team with people well versed in the benefits of such websites. Prepare for your initial consultation by talking to patients and staff to gather information. Know what your overall goals are for your new website so the team can help you achieve and even exceed those goals.