When it comes to marketing your dental or medical practice online, there are multiple ways of maximizing your exposure: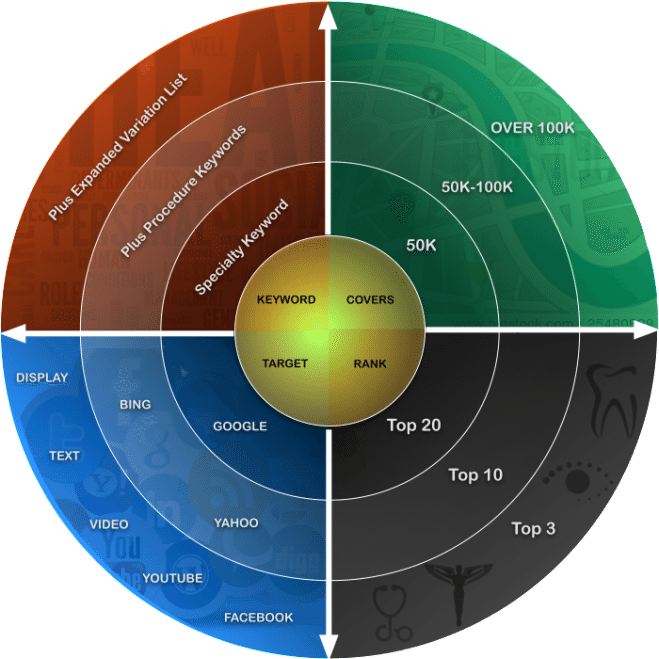 1. Add More Keywords
Keywords connect the needs of medical and dental patients with the solutions your practice provides. As your marketing plan budget grows, adding more keywords to your campaign can attract a wider audience and procure patients with more specific interests. For example, a dentist may initially use a broad keyword term that includes a city name and the word 'dentist'. As the marketing budget grows, that same dentist may begin using procedure and service-related keywords, such as 'dental implants' and 'teeth whitening', which appeal to patients with special interests.
2. Expand Your Targeted Geographical Area
Campaign geo-targeting helps determine how many people in your local area will be exposed to your ads. The early stages of online marketing focus are on the region immediately surrounding your practice, as areas within a one to two-mile radius always produce the highest conversion rates. Over time, expanding your geo-targeting radius will generate greater exposure and convert even more patients to your practice.
3. Advertise on Multiple Search Platforms
Google may be king, but did you know more than 20 percent of today's online searches occur on either Yahoo or Bing? Each of these search engines experienced substantial growth in 2014 and are expected to continue increasing their share of search in the future. Considering the lower cost of ad placement on Bing and Yahoo, medical and dental practices should not overlook these two Internet giants when marketing online. Combine them with Adwords, YouTube ads, image ads and Facebook ads, and your practice will benefit from a diverse network of advertising that drastically improves your chance of acquiring new patients.
4. Boost Your Search Ranking
Even the slightest improvements in search engine rankings can generate considerable increases in your site's traffic. For example, data shows that simply moving from a number two ranking to number one can more than double the number of new patient visits to your medical or dental website. In fact, multiple studies show that the number one ranking on a search result page receives 30 percent of traffic, whereas the number two ranking receives just 15 percent.
Schedule a FREE consultation with one of our specialist for more information.